A death care industry overview of the four days of memorial services for George Floyd.
Thousands of people have paid their respects to George Floyd, who was killed during an arrest by the police. His death shocked the world and sparked a wave of anti racism protests around the world.
Living a normal life, before it was violently taken, the level of service needed to honor Floyd´s life couldn't have been predicted or prepared for by himself or his family. On May 25th not only the Floyd family, but the world mourned his loss. With protests, prayer vigils, moments of silence, and memorials quickly being held around the world. 
To help the family provide the service Floyd deserved, boxing legend Floyd Mayweather showed his support by financing the funeral. Mayweather, refused to comment on the contribution, but the donation was confirmed by his representation.
The six main events to honor Mr. Floyd with his family were: a memorial service in Minneapolis where Mr. Floyd lived, a viewing and service in North Carolina where he was born, and his final public viewing, funeral service (that was televised), and funeral service that was private, in Houston where he was raised.
Mr. Floyd's funeral management
The main funeral was directed by Estes Funeral Chapel CEO and funeral director Tracy Wesley, who accompanied Mr. Floyd across the three states. He was contacted to prepare the body and manage the services by the families lawyer Benjamin Crump, his team and the Rev. Al Sharpton with National Action Network.
When discussing being selected Mr. Wesley said: "It's very humbling and it's saddening as well because we serve people who are losing every day. But in an instance like this, this is something that definitely didn't have to be." On a personal level he continued that "As a black man and as a black American it's been difficult because for us, it's a situation of here we are again."  
Memorial service in Minneapolis
In a Minneapolis chapel, on the 4th of June, hundreds of people gathered for the memorial service of George Floyd. The service was held at North Central University in the Lindquist Sanctuary. Political leaders, civil rights leaders and celebrities attended  Including Jesse Jackson, Minnesota Gov. Tim Walz, Sen. Amy Klobuchar and Minneapolis Mayor Jacob Frey.
Reverend Al Sharpton performed the eulogy, and held a moment of silence afterwards for 8 minutes and 46 seconds, the same amount of time than an officer held his knee on Floyd's neck and ended his life. Floyd's family also spoke, with his cousin Shareeduh Tate, brothers and a nephew sharing memories of their life together.

As pandemic regulations are officially still in place, mourners had their temperatures taken, many were wearing masks, people were spaced apart and all guests were informed on social distancing regulations.
Transportation 
Several airlines showed their support for the Floyd family, by offering free flights to transfer George's body to his multi day and cross country memorials. 
North Carolina Viewings
Born in Fayetteville, North Carolina the family decided to have a private and public viewing in his birth state. On June 6th, in Raeford, North Carolina, the public viewing was held at Cape Fear Conference B Headquarters and lasted 2 hours (from 11 a.m. to 1 p.m). Hundreds appeared to honor Floyd, with some queuing up before dawn to attend.
The private memorial service that followed was also locally televised. Most of those who attended were dressed in either all black or white.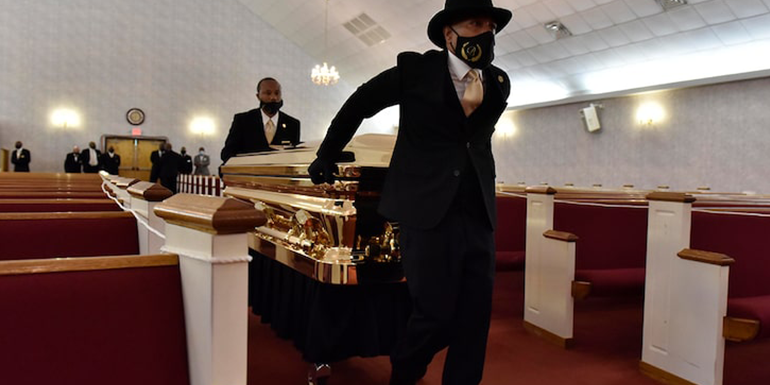 Houston memorial service
On Monday, June 8th hundreds of mourners gathered in and around 'The Fountain of Praise Church' in Houston for the final public viewing of George Floyd. Dozens of funeral workers guided the mourners into the church to pay their respects. 
It's estimated that close to 10,000 people attended the visitation, which was open for 6 hours (noon to 6 p.m). To comply with social distancing rules, only 15 masked and gloved guests were allowed inside the church at a time. 
The family provided note cards to visitors at the public viewing saying "Because of you, we have gained comfort and strength," "We would like for each of you to know that George is now one of God's beautiful angels and will FOREVER breathe in our hearts."
"Because of you, we have gained comfort and strength," said the Floyd family. Attendees at today's public memorial for #GeorgeFloyd will receive this card, which includes a thank you from the Floyd family, including the aforementioned quote. @KPRC2 pic.twitter.com/tK7iBCT58o

— Brandon Walker (@KPRC2Brandon) June 8, 2020
Houston Funeral service
George Floyd's final funeral service took place on June 9th at 'the Fountain of Grace Church' in Houston. The family referred to the event as a home-going and "grand finale." Around 500 guests were invited by the Floyd family, including political leaders and celebrities.
The family doned the aisles in white attire and George was laid inside an open gold Promethean Coffin, which he had also been seen in as he traveled across the country for his viewings and memorials. He was dressed in a brown suit with a blue tie.
The service lasted 4.5 hours and had speeches from politicians, activists, family members, and a eulogy by Rev. Al Sharpton. The service commemorated his life and spoke about the hope and betterment of society that has to be built on the legacy of his life. 
Presidential candidate Joe Biden provided a video message and Mayor Sylvester Turner of Houston announced in his speech that he would sign an executive order later on Tuesday to prohibit the city police from using choke-holds or strangleholds. The program also included photos from rallies and protests ignited by Floyd's death.
George Floyd Funeral Program
Life Celebration Salutation- Dr. Remus E. Wright and Pastor Mia K. Wright (Senior Pastor and Co-Pastor, The Fountain of Praise, Houston TX)

Musical Selection – "God Will Take Care of You" sung by Pastor Kim Burrell with the Houston Ensemble

Old Testament Reading – Reverend Arthur Rucker
New Testament Reading – Pastor Emeritus Gusta Booker (Greater St. Matthew Baptist Church, Houston TX)

Prayer of Comfort – Reverend Dr. Mary White

Video Montage with Musical Selection – "A Change is Gonna Come" sung by Dray Tate (Video collage of protests around the world in the background with Visual Artist Ange Hillz)

Resolutions – Read by Ivy McGregor

Musical Selection – "Oh, How Precious" sung by Kathy Taylor with the Houston Ensemble
Dignitary remarks
Joe Biden (Former Vice President of the United States)

Congressman Al Green, 9th Congressional District

Congresswoman Sheila Jackson Lee, 18th Congressional District
Houston Mayor Sylvester Turner
Video Montage with musical selection- "Hood Cry" sung by Cal Wayne (Video Collage of Floyd's performances without audio)

Family expressions – Kathleen McGee, Brady Bob, and Travis Cains

Family tribute – Sung by "Ne-Yo"

Poem – Earnesia Clabron-Dangerfield (Jack Yates Alum)

Musical selection – "My Soul's Been Anchored" Sung by Michael Tolds

Acknowledgement of Clergy – Dr. Remus E. Wright, Senior Pastor
Ministerial Remarks
Rev. William "Bill" Lawson, Pastor Emeritus, Wheeler Avenue Baptist Church (Houston, TX)

Dr. Steve Wells, Senior Pastors, South Main Baptist Church (Houston, TX)

Dr. Ralph Douglas West, Sr. Pastor//Founder, The Church Without Walls (Houston, TX)
Musical Selection: "We Offer Praise" Sung by Nakitta Foxx with the Houston Ensemble

Silent Reading of The Life and the Legacy of George Floyd (Soft Music)

Words of Encouragement: Dr. Remus E. Wright, Senior Pastor
Sermonic Solo: "For Every Mountain" Sung by Minister Kurt Carr

Introduction of Eulogost: Bishop James E. Dixon, II, Community of Faith Baptist Church (Houston, TX)

The Eulogy: Rev. Al Sharpton
Closing Celebration Salutation: Rev. Dr. Marcus D. Cosby, Wheeler Avenue Baptist Church, Houston, TX

The Farewell Tribute to Mr. George Floyd: Fort Bend Memorial Planning Center Elite Burial Guard

The Departure: Clergy, Dignitaries and Family "I Shall Wear a Crown" Sung by Zacardi Cortez
After the service the George was transported in an iconic transparent horse drawn carriage, the same way legendary change-makers Martin Luther King and JFK were. The service was donated by Vintage Horse Carriage Ride owner Terence J. Reed, who wanted to support the family.
As the coffin was lifted into the carriage, a chant broke out in the crowds surrounding the church: "Say his name! George Floyd! Say his name! George Floyd!" The procession to the cemetery was lined with mourners who continued the chant until their arrival at the closed off cemetery.
There was one final private ceremony for the immediate family at the Houston Memorial Gardens cemetery before George Floyd was laid to rest next to his mother, Larcenia Floyd.