Athletes are an important part of our society. Bringing together communities to unite and enjoy the simple love of a game. When these emblemes of our communities pass, it's not only the family who mourns, but the world. Leaving families and sports leagues an important role of balancing the wants of the departed. In addition to respecting the privacy of the family, all while fulfilling the needs of the public, who feel as though they are a part of the athletes' lives.
This is becoming ever more difficult with the continued blur into public figures lives. Showcasing the importance for public figures to be proactive in planning and preparing for their passing. What has been the standard for Legendary athletes in the past?
Legendary Athletics Funerals
Babe Ruth´s Funeral
George Herman Ruth, Jr., famously known as Babe Ruth, the Great Bambino, the sultan of swat, or simply the babe passed away on Monday August 16th 1948 of nasopharyngeal cancer. He was 53 and one of the biggest sports legends of the time.
While Babe was on end of life care at the hospital, hundreds of young boys waited outside. When he passed the priest came down and delivered the bad news to the young crowd.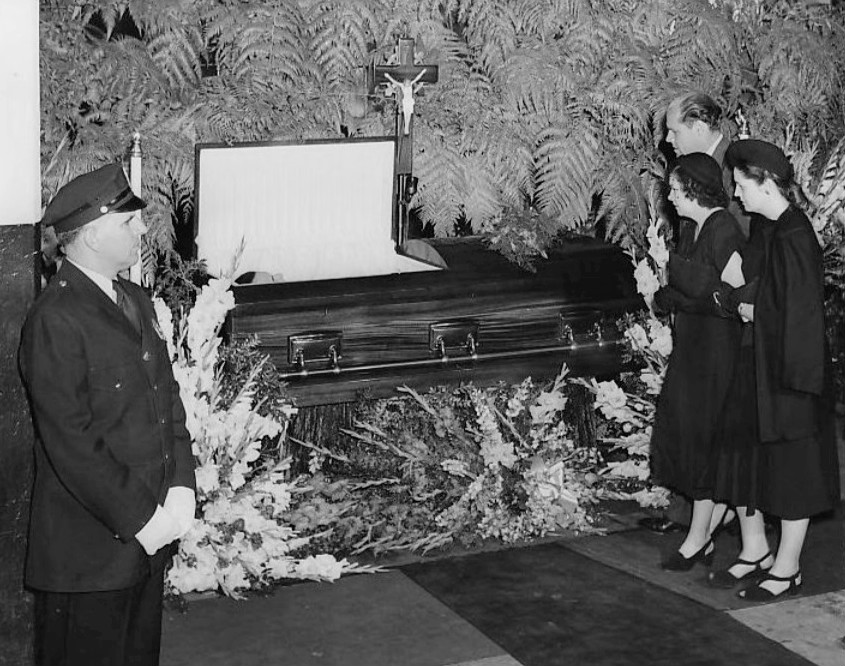 There was a private service for the family at Saint Patrick's Cathedral in addition to a two day viewing at Yankee Stadium on August 17-18, 1948. It was estimated that over 100,000 fans came to say goodbye in person. Among the mourners at the stadium were baseball executives Dan Topping, owner of the Yankees, Will Harridge, president of the American League, Commissioner, Happy Chandler and former players Hank Greenberg and Leo Durocher.
Jesse Owens Funeral
James Cleveland "Jesse" Owens died of lung cancer at the age 66 in Tucson, Arizona, on March 31, 1980, with his wife and other family members at his bedside. After his death President Carter lamented that ¨Perhaps no athlete better symbolized the human struggle against tyranny, poverty and racial bigotry."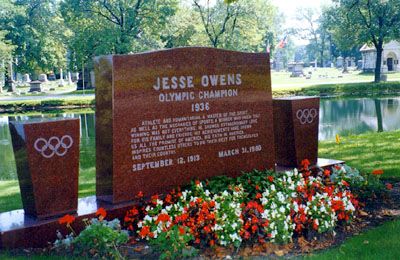 The Olympic champion´s family decided that Chicago would be his final resting place. There was a funeral service at the University of Chicago Rockafeller Chapel and it is said that thousands came to pay their respect to the field and track legend, who stood up against the Nazi regime and inequality. His final resting place is at Oak Woods Cemetery, Chicago. Where guests can continue to visit and pay tribute to the star.
Johan Cruijff´s Funeral
The Dutch three time European Footballer Award winner passed away at the age of 68 due to cancer, in Barcelona. Following Spanish customs Cruijff was cremated the day after his passing. Followed by a funeral with just a few family and friends.
The Barcelona stadium where Cruijff coached, Camp Nou, opened on saturday to mourners with the family and team coming and sharing a few words on the following Tuesday. A spokesman for Cruijff's family said they valued all the initiatives which are being planned but pointed out that 'none of them are being organised by the family'.
Back in his home country, The Netherlands, the city council of Amsterdam decided to rename the soccer stadium from the local team name of Ajax' ArenA stadium to Johan Cruijff ArenA stadium. Cruijff was beloved in the football (soccer) world and one of the top players the world has ever seen. As his son said "We understood that Johan is not only ours, he belongs to the whole world."
Muhammad Ali´s Funeral
On June 3, 2016 the 61 years old boxing hero Muhammad Ali passed from septic shock, which was brought on from his parkinsons. His funeral, tribute, and overall end of life plans were well arranged and exactly as the star wanted, because he had been planning them for years.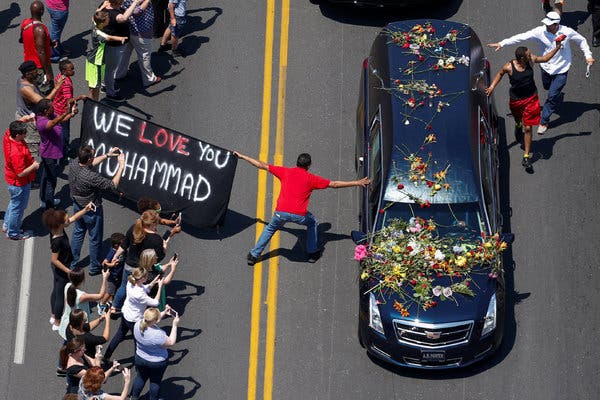 As a devote muslim, after his passing, Ali has made sure his body was prepared using specially approved embalming fluid that containted no alcohol or fameldihyde. After being prepared his body was returned to his hometown of Louisville. There was a public service, that was telecasted, and attended by the famous as well as 15,000 fans who picked up free tickets. After the service there was a procession around the city passed his childhood home and the city highlights. Ending with a private burial at Cave Hill cemetery. with his family and close friends.
It was a beautiful event that captured the spirit of Ali. You also read a full play by play, of every moment leading up it in an expose by ESPN
Jackie Robinson´s Funeral
The beloved American figure Jackie Robinson passed away on Oct 24th 1972 at the age of 53, due to a heart attack. His family arranged a church service four days after his passing at New York's Riverside Church. Many of his former teammates and other famous baseball players served as pallbearers and 2,500 people attended the service that was led by the famous Rev. Jesse Jackson. It is said that during the eulogy the crowd ¨cheered more as though it was celebrating a ninth-inning home run than a funeral.¨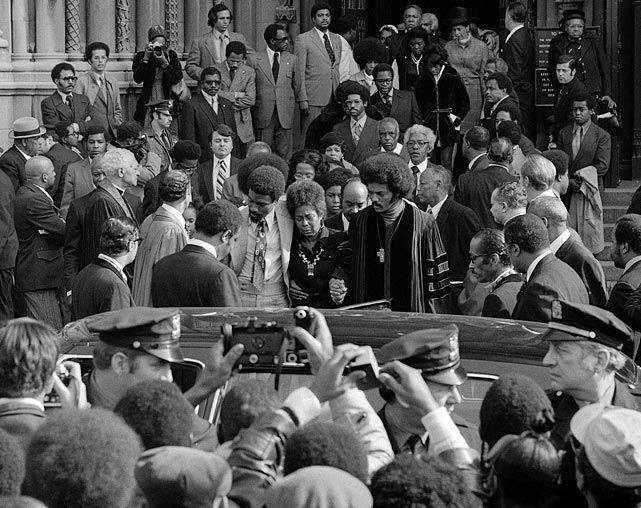 Afterwards, the drive to the Cypress Hills cemetery had tens of thousands of fans lined up along the route watching the influential athlete and civil rights activist go by. He is buried in a family plot next to his son and mother in law.
He continues to be recognized for his influence on the advancement of civil rights and the community with the the Interboro Parkway being renamed Jackie Robinson Parkway in 1997. The Robinson family also announced plans to develop a museum about Jackie in Lower Manhattan.
Funerals of Athletic legends of tomorrow
Based on the current track record the public can expect large arenas and teams affiliated with athletes to have memorials or make sentimental notions. Such as renaming stadiums or team areas to retiring numbers. Likely followed with a service the public can attend. Families and athletes have the important decision to make around their level of comfort around creating space for fans to pay tribute. If open casket viewings will continue is unclear, especially with the growing demand for cremation.
Important figure memorials is a niche that will likely continue to evolve with technology, that can help provide closure for fans around the world. Through in person like experiences such as a service live stream. While also allowing distance for grieving families.
More death positivity among the elite will be crucial to prevent families undergoing unnecessary stress or even potentially harassment in their most delicate time. The world is becoming a smaller place and news is instant, with the click of a button. Athletes and sports organizations need to be prepared and engaged with developments that can help them take care of their own.