Help the bereaved celebrate the life of the deceased by creating unique and special services that allow for them to be present and in accordance with the lockdowns and isolation mandates. Creating services that are accessible via vehicle and allow a new era of possibilities for those with limited mobility.
Must have offerings for a drive-through or drive-in funeral service
Visitors like to bring cards of support for flowers and plants so it is important to create a safe location where these items can be left.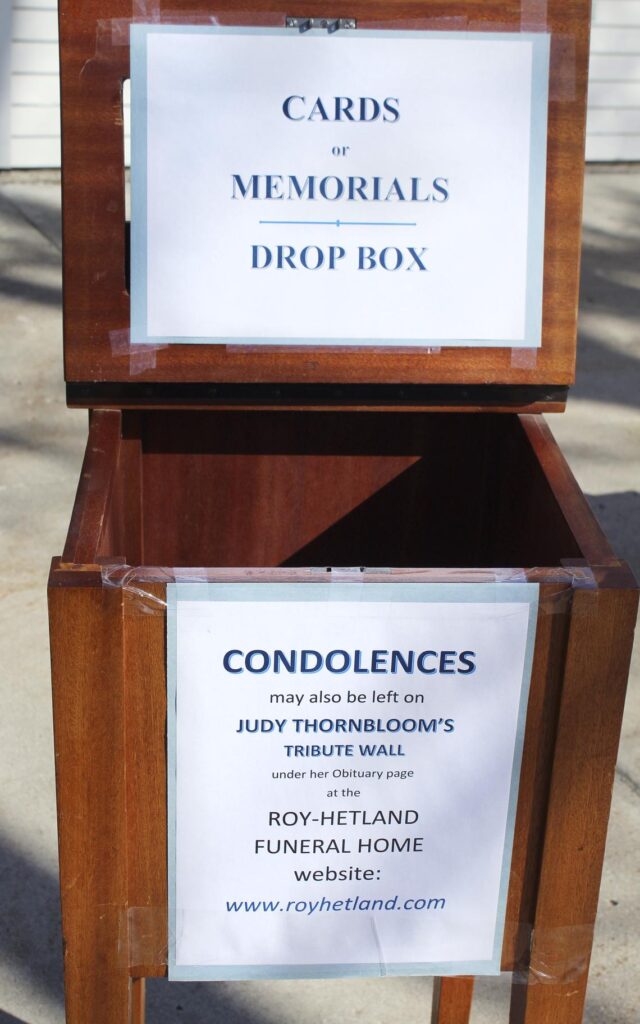 While guests are waiting for a service to start or to get to their moment with the deceased let them know where they can share their memories via a virtual guest book.
Drive-in funeral services
A drive-in service should allow for guests to partake in a current funeral service. Allowing extended family and friends who are not permitted to enter, to be present and pay their respects. This could mean they watch a service being held inside or they drive their vehicle to the graveside to see the casket lowered.
Create a curated experience
While this may not be a standard or ideal experience, take this opportunity to create the memorials that the deceased and their families deserve and under normal situations would have.
Make the drive-in space feel purposeful by clearly indicating where vehicles should set themselves up in a tasteful way. Have a parking host with a sign and potentially some roping off of areas to create the idea that the outside space is designated just for them.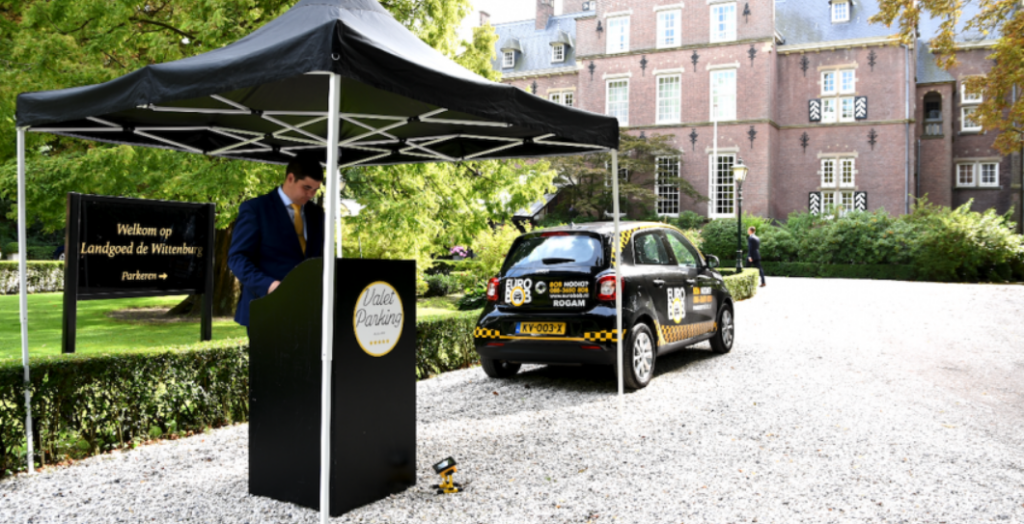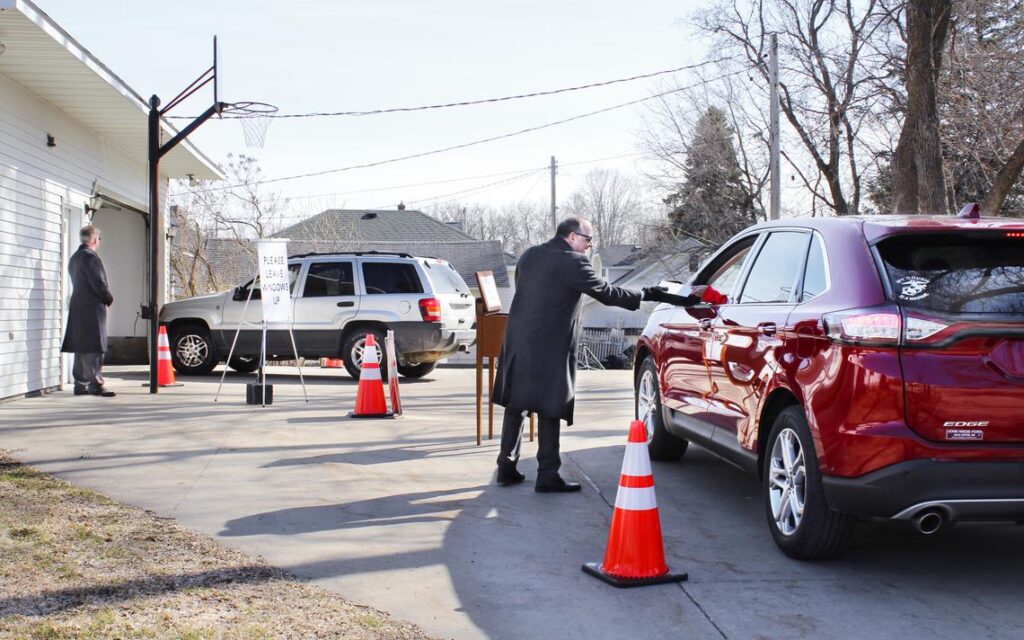 Being outside and isolated from the action means additional communication is crucial for the service. Make sure attendees understand the program with a timeline being displayed on a screen or through a passed out agenda.
Work with the family to find out what is the best way to engage with their community.
Show solidarity: Let attendees in their vehicles show their support with a group moment. At the beginning or end of the service have a specific time designated for the cars to honk and let the immediate family feel the love of their community.
Create a gallery: When inviting guests to the drive-in funeral service let them know they can bring in a photo of the loved one, which will be placed on a Dia de Los Muertos altar for the family to have and enjoy the laughs.
Give Back: Allow guests to participate in a fundraiser close to the deceased. Display a visible thermometer to let guests know how much they fundraised on behalf of their friend or family member.
Stream the service
Livestream the service onto an external screen so that mourners can share in the experience.
Make the service viewable on location
Set up a large movie screen or project on to the side of a building the livestream for the family to follow along on-site in a communal viewing, rather just on their mobile devices.
For graveside funerals, help provide additional viewing for the audience who are car-bound with a screen showing the blessings being made.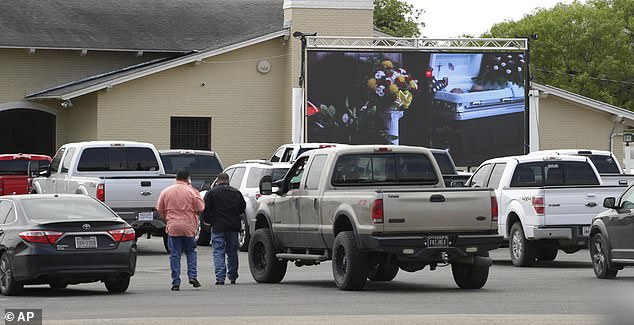 Setup a private radio station
Allow for optimal sound for a service streaming or a graveside service by setting up a private radio station. You can create a digital radio station or set up a little pirate station that can be tuned into on the property via an AM/FM radio.
Add on Ideas
Make the funeral drive-in extra by offering special some of the special additions you would to any other service.
Similar to an interior service, before the service, place memorial cards of the deceased on the windshields of attendees.
Suggest a musical entertainer that can easily move from the indoors to outdoors, for example, a bagpipe player or bugler to play taps either walking into the venue in the beginning to bring the service outside at the end.
Videographer / Photographer
While the family is inside they will not have an opportunity to see everyone who attended and shared their support. Offer them an opportunity for a "hug" they can look back on by collecting the memories of their guests with a video montage or photos of the guest.
Drive-through funeral services ideas
Initiate an accessible wake for more than just the immediate family by offering a drive-through service. Some have buildings designed with a window for viewing, while others place the coffin in an area that is easy to drive by such as a patio, parking lot or lawn.

Highlight a life well lived
Let guests enjoy the person they remembered and create a more personal drive-through wake experience by having a screen available to show a slideshow of the departed's life.
Add on ideas
Create an unforgettable experience for family and friends by creating customized drive-through opportunities for families to consider.
While guests wait for their moment with the deceased, offer coffee to enjoy in their cars alleviating any feeling of rush some could feel with the new form of viewing.
Normally guests would share stories with the family in the time. Decrease the distance the vehicle presents by having a videographer or photographer present to create a video montage or photo guest book.