Jerusalem is a small and highly demanded location to be buried in, not only for locals, but religious people around the world.  Unfortunately there just isn't enough space to meet the global demand. Jerusalem's biggest Jewish cemetery, hosting over 250,000 plots, has completely run out of space and had to build grave sites with multiple levels comparable to car parks to even attempt to meet demand.
Lack of space stimulates innovation
Due to a lack of space developers in Jerusalem have now created an impressive state-of-the-art underground burial site. Kehillat Yerushalayim burial society is the biggest group overseeing Jewish burials in Jerusalem and has financed the sites construction, costing  $58.2 million (€52.25 million). The group's strict regulations ban cremation and require that when the deceased will be buried they need to be physically connected to the earth. .
The construction company Rolzur, who built the new underground site, specialises in digging tunnels, mainly for trains and roads. However, head of business development Adi Alphandary said "What you are seeing here is the first underground cemetery of the new era". It could mean that more construction companies specialized in tunnels will move into the world of death care, as many large cities are now dealing with a lack of space for burial sites. Rolzur is ready to help take this concept worldwide to other cities in need.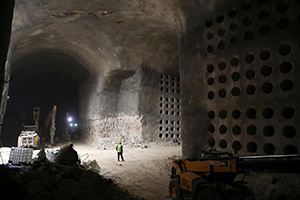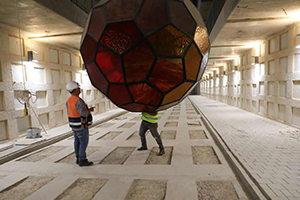 A hightech underground facility
The underground burial site is designed using  the latest technologies to make sure guests can feel comfortable when they visit. There will be an elevator access, soft LED lighting and golf buggies. German artist Yvelle Gabriel, has created a colorful giant stained-glass lighting fixtures which will shine a warm amber light in the tomb. Ventilation pipes with a diameter of two meters has also been installed to keep fresh air ventilating .
On the 30th of October the first part of the complex will be inaugurated and 8,000 graves will be filled. In the meantime the rest of the tunnels will be dug to eventually offer space to 23,000 others.