Private funeral owners find new owners for three branches in two local established Iowa families.
Northwest Iowa will see some changes in their funeral service providers as two funeral homes transfer to new ownership and a friendly competitor absorbs the business of the third branch of the Andringa funeral homes.
Andringa Funeral Homes
Owners Larry (65) and Lavonne (60) Andringa have decided to retire after 37 years helping the community with their funeral needs. They leave a rich legacy for the new owners to embrace.
After Larry served in the U.S. Marine Corps (1974-78) he went to Westmar College in LeMars and received a bachelor's degree in biology and a minor in theology. He realized his calling for the death care industry because: "I enjoyed science" and "I enjoyed the spiritual side of it with my belief in my Lord Jesus Christ" he said.
He then attended the Worsham College of Mortuary Science in Chicago and graduated in 1981. Larry and Lavonne moved to Sibley in 1983 and three days after they got married opened their first funeral home, Andringa Funeral Home, which was attached to their residence in Sibley.
In 1991, they purchased Andringa Funeral Home Sheldon Funeral Service in Sheldon and in 1994, they built Andringa Funeral Chapel in Ocheyedan, Iowa.
Larry has loved being a funeral director because he gets to help people through emotionally trying times, but he is excited for the new owners to take over his legacy as he and Lavonne begin to think about their new future together.
Friendly competitor purchases
Larry reached out to Jerry and Amy Jurrens in the fall of 2019 to discuss the potential of buying the Andringa Funeral Home locations in Sibley and Ocheyeda, since he thought taking over those locations made sense geographically for the Jurrens.
The couple had already previously purchased seven funeral homes. Walton-Roste and Roste Funeral Homes (locations in Ashton, Larchwood, Rock Rapids, Sibley and Hills, MN) in 2005, Bolin Funeral Service (in George and Little Rock) in 2011, and Memorial Funeral Home (in Sioux Center) in 2017.
Jurrens Funeral Homes took possession of its part of the Andringas' business on Monday, May 18th. Jurrens Funeral Homes' new Ocheyedan location will remain Andringa Funeral Chapel for the foreseeable future, but the funeral home in Sibley only included the business and its contents, but not the physical property.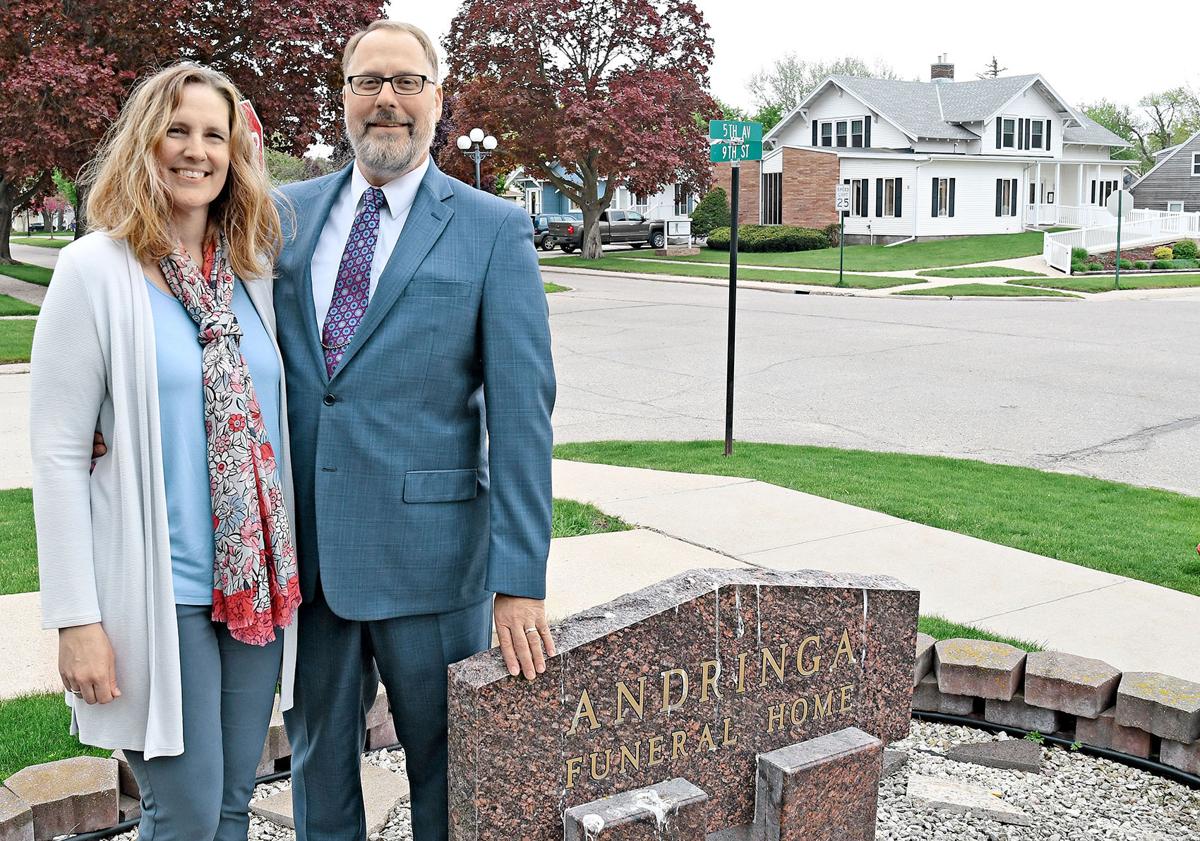 Larry and Lavonne currently live in, and will continue to live in the Sibley location, which is located diagonally across the street from the Jurrens other location so not acquiring that property with the acquisition worked perfectly for both parties.
Amy noted again how honored she and Jerry are by Larry and Lavonne selling a part of their funeral home business to them. "Even though we're competitors, we weren't competitive," she said. "You're in the people business. You all care about people."
Meet the Eldridge family, Sheldon community
Andringa Funeral Home in Sheldon has been purchased by Eldridge Family & Vander Ploeg Funeral Homes, which already has four funeral homes in Sheldon, Boyden, Paullina and Primghar.
Larry reached out in January to Ben Eldridge, The president-elect of the Iowa Funeral Directors Association, and one of the owners of Eldridge Family & Vander Ploeg Funeral Homes about purchasing the Andringa Funeral Home in Sheldon.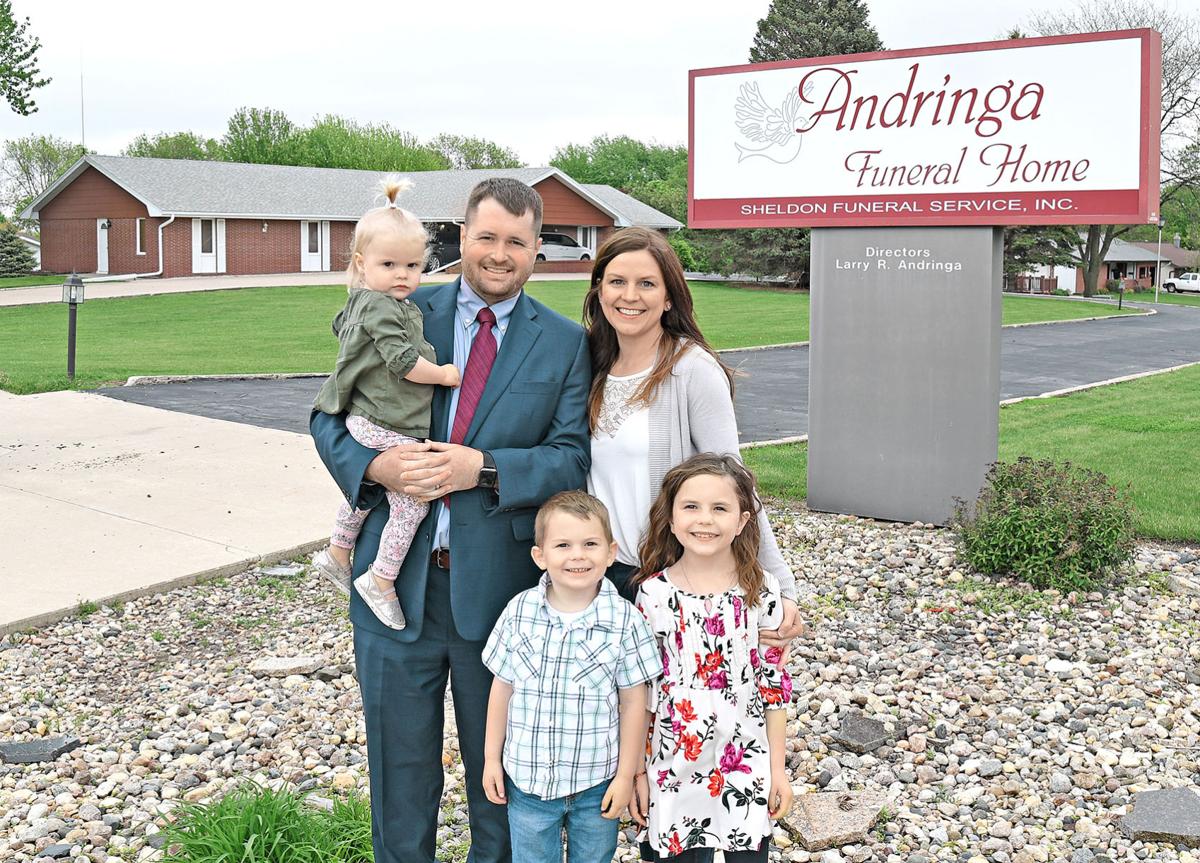 Ben, who owns Eldridge Family & Vander Ploeg Funeral Homes with his wife, Sara, and his parents, says they are planning on keeping everything on the business front the same for now, so they don't raise any concerns in the community about premade plans. Only one small update of adding the location to the name to help differentiate it, so it will now reach Andringa Funeral Home — Sheldon. The location will be staffed by their core employees as they get to explore and work in the new location.