Deaths caused by COVID-19 are forcing funeral home workers to think outside the box. How can they provide comfort to their clients when all the traditional methods are no longer possible due to mandated isolation policies? To help families and friends honor their loved ones funeral directors are updating service options to create more opportunities for mourning together.
Drive through funerals enter the scene
Drive through funeral services are nothing new to the death care industry. From Japan to Memphis these offerings have been popping up in the last seven years all across the world. The original sentiment of the building designed to facilitate these drive-through funeral services is to create ease of visitation to the handicapped and those who have difficulty with mobility. However, the use of drive-through services continues to grow, especially in today's pandemic climate.
Traditional funeral homes start to offer drive-through services
From Spain to the USA, many homes are getting on the bandwagon of offering drive-through services. Allowing people to grieve with a bit more dignity and in proximity to their friend or loved one.
Italy
Some of the first funeral homes forced to make adjustments due to coronavirus. In Italy, funeral homes are driving hearses with the deceased by the homes of the family in isolation or lockdown who can not leave to say goodbye. It's not an ideal situation for anyone, but it is helpful to the ones who did not get to say goodbye.
The United States
In the US there are three types of drive-through/drive up experiences that funeral homes are adopting and adding.
There are full fledged

drive through funeral homes

that already have a window display in their building, that are pre-existing. Offering the convenience of close up vehicle viewings for years.

Some funeral homes that are

placing the caskets outside

on a porch or under a covering along with photos of the departed for communities to drive by and pay respects, in place of a viewing. Sometimes the families also stand outside as well to hear the condolences of the well-wishing community.

Isolation and lockdowns in many places still allow for 5 – 10 immediate family members to attend a service. However, if more want to attend they are having blessings and services outside of the cemetery and family and friends above the allotted number can watch the immediate family and any kind of blessing or service from the distance of their cars. Its silent solidarity when hugs aren't possible and allows for more attendees, but at a distance.
The Netherlands
Dutch funeral homes are finding that adapting traditional services to the American drive-through funeral experience to be helpful in the current conditions. There is also the addition of coffee to go and honor guards along the route. They are also utilizing hearse boats to transport the casket to the funeral home past the homes of those who cannot be in attendance.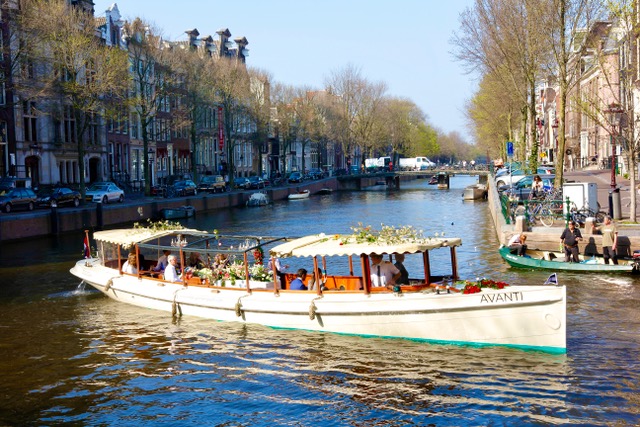 Spain
Rather than families driving by a home in Madrid the hearses are lined up in front. Each hearse has a moment where it pauses in front of the funeral home and up to five family members, who are maintaining social distancing, can walk up to their loved one's hearse and hear a brief blessing from the priest before the body is wheeled inside and it is the next families turn. The "Service" is less than 5 minutes and families can't see the body or have contact with it again.