Dia de Los Muertos is an important cultural holiday the death care industry should embrace and educate their local communities about. With rich origins dating back to the Aztecs, it's a significant cultural movement that encourages the living to remember and celebrate their departed family and friends. 
Dia de los Muertos, Day of the Dead, All Saints Day, All Souls Day, Samhain, Halloween, is it all the same?
They are not the same, but are connected by their desire to acknowledge the dead. Dia de los Muertos and Samhain are distinctly similar as they are both based on the ideology that at a certain time of the year, the boundary between the living and spirit world opens. However, as Catholicism was brought to new lands traditions morphed to become more inline with catholic religious values. This included Celtic and Latin American traditions revolving the dead.
November 1st marks the beginning of the new year for ancient Celtic people. It also marked the end of summer and the beginning of a cold and deadly time for communities. So on Oct 31, when the dead could visit, the community lit fires to scare death away and make offerings to their gods. In an attempt to continue Christianize the pagans in 1000 AD the church created  All Souls Day to be held on November 1st, to honor the dead in a church approved holiday. They called it All-hallows, which was middle English for all souls day. The evening before was referenced as all-hallows eve, which we now know as Halloween. Massively popular in America, Halloween has become a fall community festivity with hints of the past remaining, but in a more modern commercial fashion, not in a respect to the departed. 
What we know as the two day celebration of Dia de los Muertos (Nov 1-2), was once a month long celebration in August, worshiping Mictēcacihuātl, the goddess of the underworld. She was the guardian of the bones of the deceased and swallowed the stars during the day. When the conquistadors came in the 16th century, they probably attempted to replace the holiday like they tried with the Celtics, but again rather then replacing the tradition they ended up with a new version of the event in a style that suited the community at the time. They did however succeed in changing the dates of the events to two days in November. 
Dia de Los Muertos today
This is not a time to be sad but a time to celebrate the lives and spirits of family members who may join you. It is disrespectful to the dead to grieve and important to make it a party the departed would want to attend. To entice the dead on October 31st many families prepare family plots to look their best and welcoming with small offerings. At home it's common to have an alter (known as an ofrenda) with special foods, candles, flowers, music, photographs, or even trinkets that the departed would enjoy.  
In 2008, the holiday was even added to UNESCO's Representative List of the Intangible Cultural Heritage of Humanity, ensuring its enchanting legacy for years to come and drawing attention to its native roots.
How can funeral business embrace and prepare for Dia de Los Muertos?
The first step cemetery can take is respecting clientele who are honoring this tradition. Can opening hours be updated to reflect the needs of the families, who traditionally have the celebrations in the evening? Have maintenance schedules been updated around November 1st and 2nd so that special offerings are not removed from graves? Thirdly, if there are specific items that are not allowed, due to safety or because of potentially offending other families (who also need to be respected) then make sure families who celebrate are aware of regulations before rather than after when it's too late. 
This rich tradition of honoring the dead is an important value which the death care industry has the opportunity to share with the community. Cemeteries can create spaces for locals to come together and enjoy the facilities and the memories of their departed. Via events for families, offering religious services on site in honor of the dead, or even creating a dedicated space where families and friends can share and safety place photos and light a candle. It´s a beautiful chance to encourage death positivity and give back to families. 
Cemeteries and Funeral homes honoring Dia de Los Muertos 
Hollywood Forever Cemetery takes the prize on offering an amazing Dia de los Muertos event that honors the traditional Latin American culture as well as involving the local community. There are traditional dances, places for families to set up traditional altars on site, art exhibits, and overall theme which guests can embrace while dressing up and that connects the event to a traditional religion and ideology. They ̈provide their community with a genuine setting to learn the importance and significance of this celebration" and join together  ̈to summon the spirits of our lives who shaped, inspired and left their prints engraved in our souls.¨
#TBT to 20 years of LA Dia De Los Muertos

?? #TBT to 20 years of #LADayOfTheDead at #HollywoodForever ?? This year, we are looking forward to welcome you ?? 2nd November 2019 ??. #allwelcome #todosbienvenidos #LADiaDeLosMuertos #history #recuerdos #SacredMigrations #community #DiadelosMuertos? @visionaryrebels

Posted by Hollywood Forever on Thursday, October 24, 2019
They offer arts and craft workshops for children in the morning and afternoon. Help draw floats, angels wings, and creating the sugar skull masks. 
This local Barcelona cemetery offers activities for both children and adults in the morning and afternoon. There is a workshop for all ages on how to assemble a traditional Mexican ofrenda (alter), and an exhibition of Mexican catrinas. 
Calvary Cemetery, in association with the Silicon Valley Hispanic Chamber of Commerce, honors and remembers deceased family and friends and celebrates with a free event for the public with entertainment, face painting, children crafts, a community altar for photos and memorabilia, as well as food and memorabilia for sale. 
Green Lawn cemetery hosts a free all-day event with activities that include art exhibitions, live music, dance performances, interactive children's activities, art vendors, a historical tour of the cemetery, Calaveritas reading, and authentic Mexican food.
Photo credit: Bruce Golub
This event is a unique interdepartmental partnership between the City's Cultural Affairs Division, Human Resources Division, Santa Monica Public Library, and Woodlawn Cemetery. This family-friendly event celebrates the cycle of life and the remembrance of ancestors with live music and dance, storytelling, workshops, altars, craft vendors and food trucks.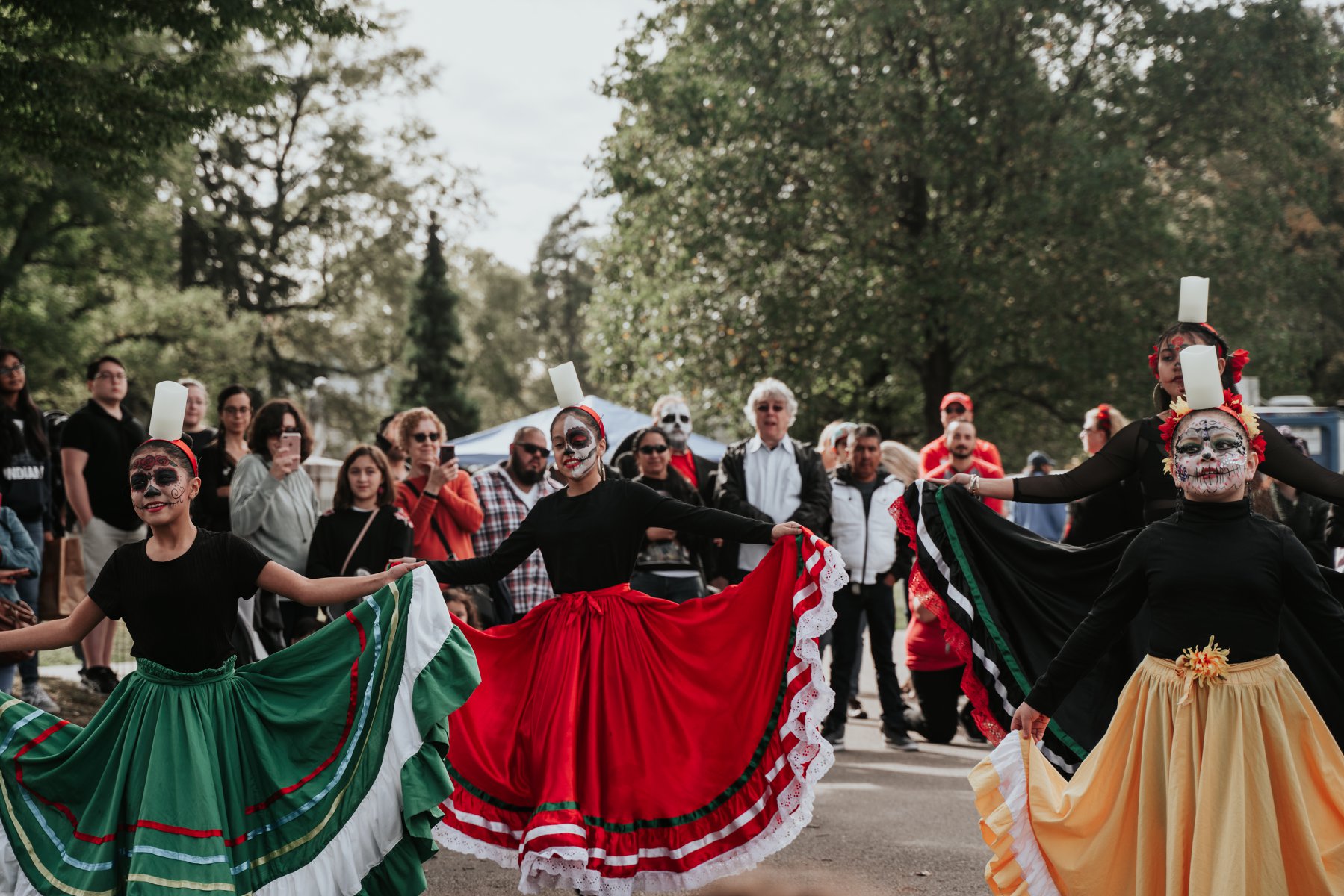 Desert Lawn Funeral Home, Crematory, and Memorial Gardens Friday, is hosting an event for the community in the late afternoon. A local pastor will lead them in a spiritual prayer followed by food and celebration. Family members can even take part in a customary tequila toast if they wish. They also encourage families to come in throughout the week to set up altars to honor their family members. 
Hosting their 2nd annual Dia De Los Muertos event. The community can expect amazing food, fun, and prizes to be won. They also encourage families to bring photos and small memorabilia to create a personal ofrenda (altar) for their loved ones.
Cloverdale Funeral Home, Cemetery and Cremation and Idaho Hispanic Chamber of Commerce have joined together to create a community cultural event. There is traditional entertainment, a prize for best designed alter, crafts, performances, education about the tradition of dia de los muertos, food and vendors. 

For 45 years the Washington Neighborhood center has honored those who have passed over with their community at  the St. Mary ́s Catholic Cemetery and Mausoleum. They start with a procession at the local highschool and walk to the church for a service. Afterwards they have danza, palabra, and sharing. There is a community altar for people to bring photos and trinkets. They also host máscara, sugar skull and pan de muerto workshops directly at the community center.
To celebrate Glendale Cemetery Forest Lawn will be hosting a free afternoon movie screening of Coco, an animated disney film that is all about the culture and story of Dia de los Muertos.
Riverside Cemetery will engage with the local families by having a book reading and small parade followed by a potluck. 
In partnership with Supervisor Andrew Do the Orange County Cemetery District, Santa Ana cemetery will be hosting an event that will provide a beautiful and accessible space for the community to gather and celebrate. This free event will feature A Blessing by Pastor Ruben Esponda of the Santa Ana United Methodist Church, a Day of the Dead Waltz by Grandeza Mexicana,  Skull Makeup and Face Painting by Beauty Glam Academy,  Music from the Movie "Coco" by Los Santos Mariachi from Santa Ana High School, Music from Mariachi de Oro from Godinez Fundamental High School,  Sugar Skull Treats and Water Provided by the City of Santa Ana – Municipal Government,and free Marigold Bouquets, Crafts, and Activities While Supplies Last.
Hosted by the Tulare County League of Mexican American Women, Visalia is hosting a Dia de los muertos family friendly event. There will be Aztec Blessing, Altars, La Catrina de Visalia, Folklorico Dancers, Hand Made Art, Food Vendors, Children's Art Booth, and Sugar Skull Face Painting.
This historical cemetery allows for an organization to offer Day of the Dead tours that highlights some of the famous graves on the grounds, talks about local history and tells a few haunted tales. 
More on the Halloween side Laurel Hill Cemetery offers many fall activities that engage with the community, from hay rides to costumes runs. One of their most famous events though is a yearly ̈Soul crawl¨ which is a flashlight tour that shows the enchanting art and landscape after dark. With an experienced tour guide guests along winding, dimly-lit pathways. The extended nighttime walking tours focus on the cemetery's rich history, and of course, some of the liveliest spirits buried within, followed by seasonal refreshments and cocktails aside blazing fire pits.
Memorial Mortuaries Redwood Mortuary & Cemetery location is hosting a family friendly event that offers Sugar skull decorating, Arts and crafts, a public alter for families to share and an outdoor showing of Pixar's Coco.
Cemeteries and Funeral homes honoring All Souls Day
Together with Southern Metropolitan Cemeteries Trust is engaging with their community by hosting activities for both Halloween and All souls day. For Halloween they have cemetery tours for Adults and children. Followed by a schedule of non denominational All Souls Day masses throughout the day around the cemetery grounds. 
The Catholic Cemeteries and Mortuaries of the Archdiocese of Los Angeles will be hosting Día de Los Muertos/ All Souls Day celebrations on Saturday, November 2 at Calvary Cemetery and Mortuary. This event offers a unique opportunity for the parish families to celebrate a tradition that unites faith, prayer and cultural heritage to commemorate All Souls Day. All are invited to actively participate by building and decorating an altar to honor deceased loved ones.
The event is open to all public and will include a presentation about the meaning and significance of the celebration according to the catholic faith, blessing of traditional altars in honor of the faithful departed, folkloric dances, a Mariachi concert, activities for children, including crafts and calavera face painting. Archbishop José H. Gomez will celebrate the Mass.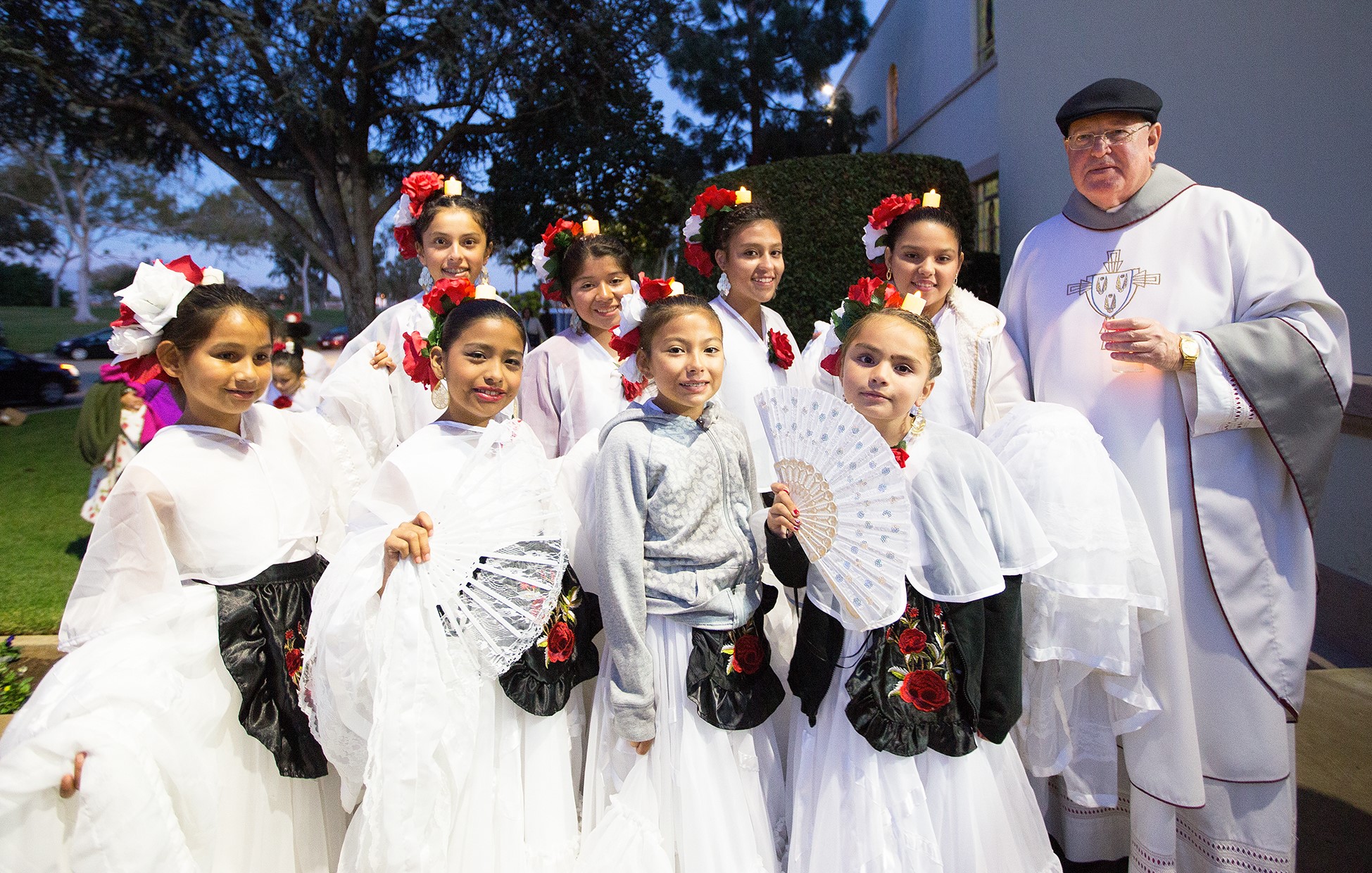 For All Souls Remembrance Day CFC Queen of Heaven cemetery will host a 3-day candle light vigil to celebrate the memory and love of those who have passed. The whole cemetery will be lit up at night and open late for three days, allowing families the opportunity to place candles on graves and enjoy a cemetery full of light at night.
This cemetery will host a special candle light service for All Souls Day and All Saints Day. 
The Diocese of Bridgeport will host a Souls Day Mass for the repose of the souls of all the faithful departed. There will be a live streaming on Facebook of the Mass celebrated by Bishop Frank J. Caggiano, in honor of the 100th Anniversary of St. Mary's Cemetery. 
St. Mary's Cemetery & Mausoleum
, New York
The Catholic Cemeteries of Syracuse will host a All Souls' Day Mass on the cemetery grounds, inside the mausoleum.
This cemetery hosts a All Souls' Day Candlelight Blessing where they light 4000 candles throughout the cemetery in honor of their deceased loved ones.