By 2021 more than 2.1  billion people are expected to shop online around the world. As a result price comparison sites will continue to pop up. The UK Competition and Markets Authority (CMA) estimates 85% of all UK internet users have used a price comparison website at some point, and the number is growing. How can the death care industry benefit from price comparison sites and their promises of transparency to consumers?
How does a price comparison website work?
A price comparison site uses a price comparison engine to collect, compare and display data into lists, offering customers results based on their search query. Comparison sites collect this data from merchants directly, via an API implementation, or by scraping the web. 
These sites can survive via a few different ways; they can make a profit on sales made through the platform, receive a commision from the service provider, they can offer improved ranking within result list for a premium, or by showing affiliate links which provide a commision. 
How do price comparison sites affect funeral homes and crematoriums?
Comparison sites give customers a good overview and understanding about the pricing landscape for goods and services they are looking for. A study by Market Track shows that 80% of consumers do online price comparisons before making a purchase decision in a physical location. The sites also give competitors insights into each others pricing and product offering, creating a more equal playing field.  
Realistically though, comparison sites rely on funeral homes and crematoriums to join and provide accurate and up to date information. As the platform is only truly inclusive and informative when industry players join and make the sites rich with valuable and accurate data. 
For smaller privately owned businesses, who can be flexible when they see changes in the landscape about offerings or pricing, comparison sites can be beneficial for business. Versus larger corporations who are less adaptable to changes of individual areas, as they have larger organizational rules to comply with. 
Most sites also offer customer review sections, which have the potential to positively and negatively affect business. A recent Harvard study showed brands that see a Yelp rating increase of 1 star also see a 5-9% revenue increase. Meaning the sites are additional platforms that funeral directors and marketing leads have to keep an eye on.  Online reviews, however don ́t replace the personalisation and human touch that death care professionals provide in a vulnerable time. 61% of consumers say human interaction, not digital, keeps them loyal.
How funeral homes and crematoriums can grow their business on price comparison sites
Comparison site visitors are already likely convinced of their purchase, so it brings strong leads to businesses. According to PWC research the main reasons why customers visit ecommerce websites are to: compare pricing, participate in promotions, and look for coupons.
Upcoming price comparison platforms can offer new potential leads and address consumer concerns about being taken advantage of during a time when they are vulnerable. Some tips funeral homes can implement for successful on these platforms are:
Be sure to have a clear and prominent USP for your business. Are you the most affordable? Do you have beautiful facilities available to host the services? Maybe you have the widest range of options available to choose from? Remember to stay true to your organization.

86% of first time online shoppers

say it's important to be able to see and compare prices from different sellers. So be sure to list all inclusions and opportunities clearly. Ideally mirror on your own site as well, to keep a clear line of communication.

 

Create a

pricing strategy

that works for your business. Whether it ́s cost-based, market-oriented, or customer-oriented pricing,  it's important to have a plan and understanding on how you will price out your services online.
Global overview of funeral price comparison sites
There is a growing demand and supply of funeral and crematorium price comparison sites around the world. This list comprises of the sites that directly list the pricing of funerals and cremations for users to compare, with no commitments needed to be made. All of the sites have the goal of creating transparency, but each has its own way of connecting to visitors and their own unique selling proposition for why funeral homes and crematoriums should apply and utilize their platform. There are many sites coming up in the US and UK, however, there are definitely still openings for this segment to grow in most of Europe, Central and South America, Africa, the Middle East and Asia, the question is will the players today become more global to cover these regions or will new local competitors pop up? 
Australia
Started in 2017, Gathered Here was the first Australian funeral home price comparison site to enter the death care scene. Facing criticism from the industry initially, Gathered Here has continued as the leading Australian price comparison site, offering price breakdown indications from homes directly, secret shoppers, or prior customers. They offer participating homes a verification marking to be transparent with consumers about where the pricing comes from. 


Canada
Offering a listing of funeral homes and crematoriums, this Canadian price comparison site is transparent with consumers by highlighting the status of the offerings. They have claimed listings, a non commissioned staff badge, and a confidence bage which represent funeral homes who have agreed to a set of business practices which will help ensure customers are only provided with service that they need and are made aware of opportunities to lower costs as appropriate. They also offer a price comparison search on celebrants.


France
There is a comprehensive collection of the French facilities available for funeral and cremation services on this French death care industry price comparison site. Pricing is added directly from the organisations that join the platform and are listed in an itemized breakdown. Visitors must fill in a query to the home of their choice to get a final quote and to make the final payment for the service.


Germany
This German funeral price comparison site offers users robust options from traditional burial and cremation to additional burials at sea or green burials. On the site it possible to pay directly for a service listed or to request a custom quote for the service. 


Japan
Also a general comparison site, kakaku.com offers Japanese a comprehensive funeral and cremation price comparison based on area and preference. They give an aggregate average of the cost and then for a final number guests can request a quote.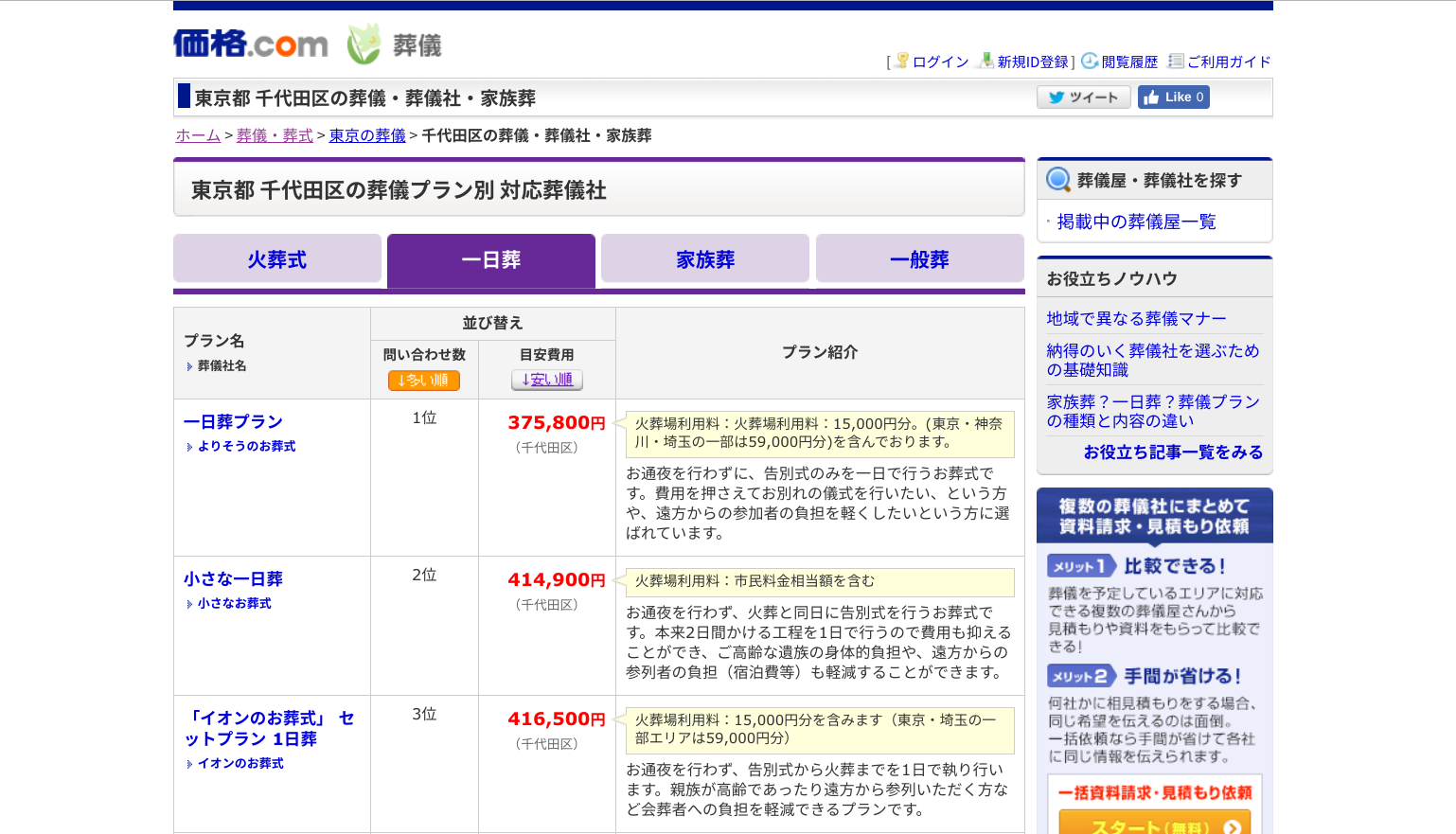 Russia
This Russian funeral and cremation price comparison site goes above and beyond to help families find a business that is offering exactly what they are looking for. Showing a top bar that allows users to select their religion (orthodox, Muslim, Catholic, Jewish, Budist, Atheist), and their price point (Inexpensive, optimal, VIP, luxury, on credit). And showing a left bar that is a comprehensive list where users can select their more direct wants for the service. For example, under funeral arrangements you can indicate wishes for decor, live music, or additional paul bearers. Further down the list is preferences for transportation, the coffin, treatments for the departed, locations for the wake and final resting place, to even offering an option for psychological help. Once selections are made the list of homes is filtered to find homes that can meet the family's specific needs, and a price indication based on the wants, guests then click on the home and direct link is sent to the home with all the requests. The site really standouts as a platform tailored to the customization needs of today's online shoppers.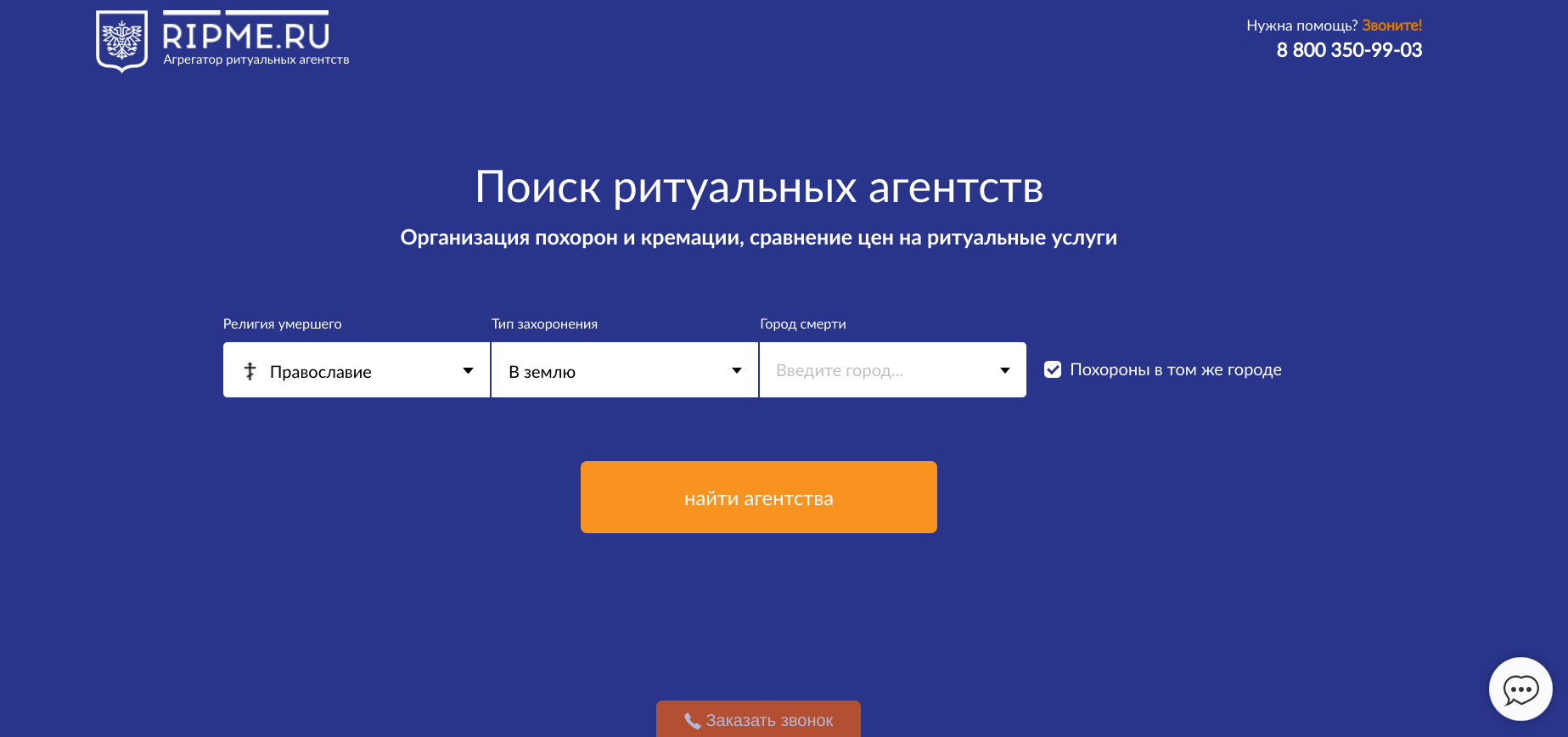 The United Kingdom
Originally a family business on the Isle of Wight Funeral Choice started as a funeral comparison site with the goal to help create more transparency for the community. This platform gives a flat starting baseline and for breakdowns or more specific information a quote is sent to the funeral home of choice.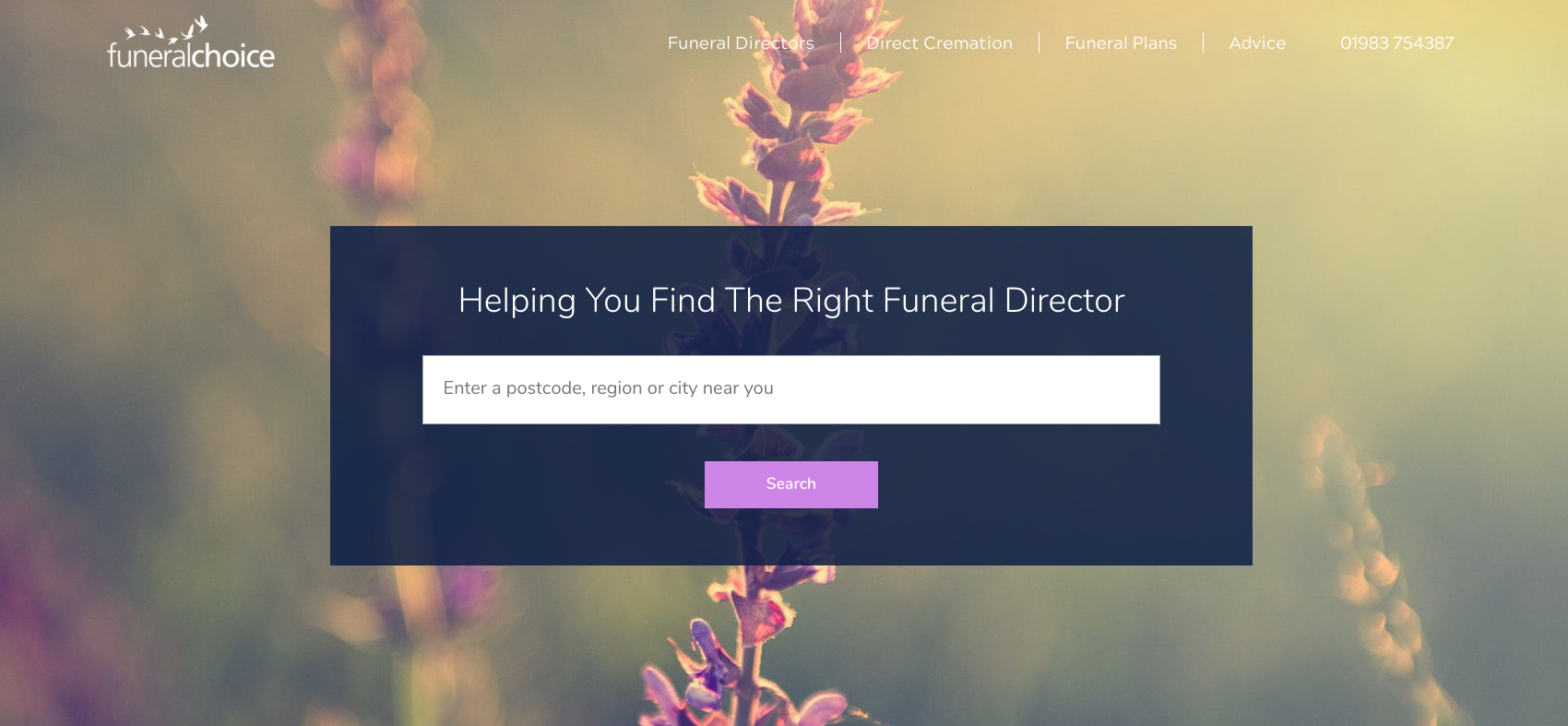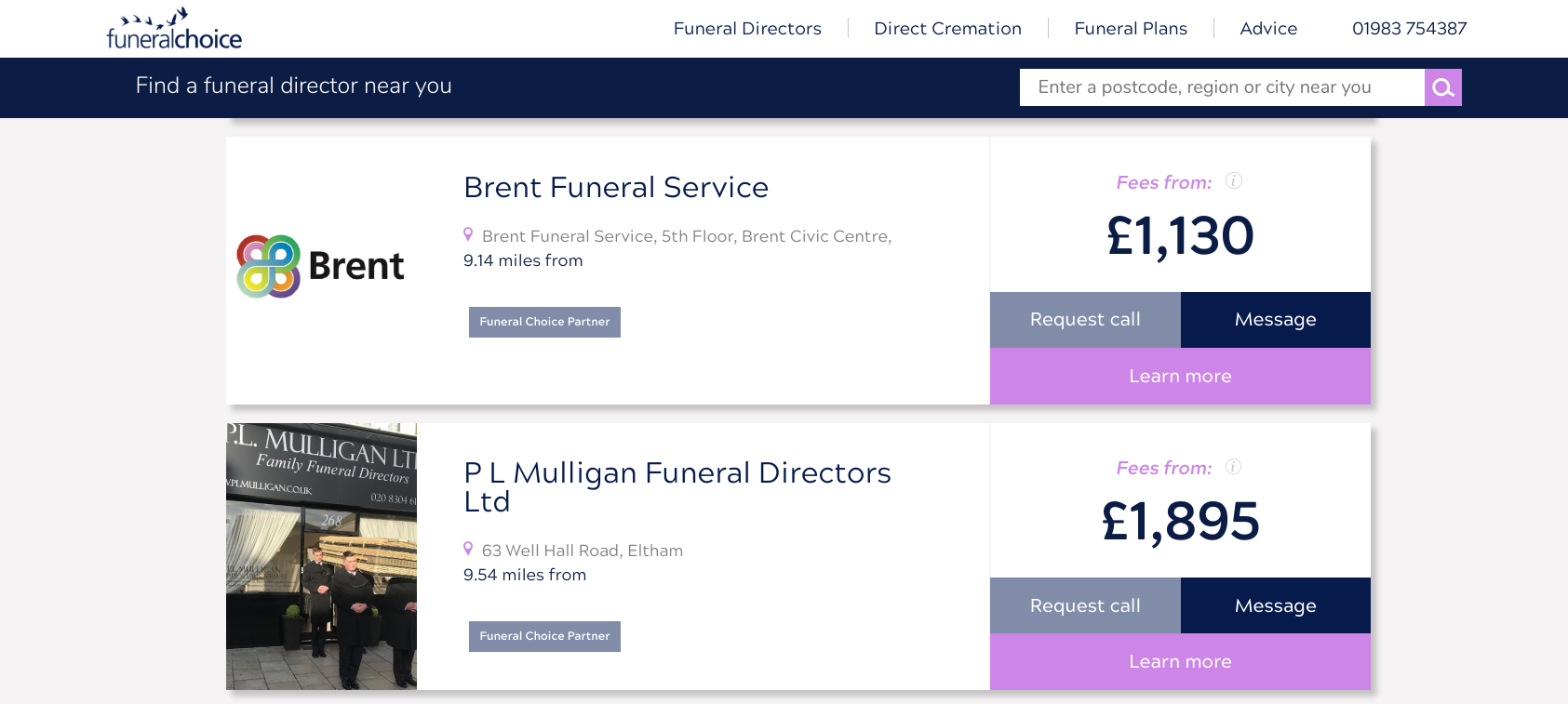 Formerly known as Funeralbooker, Beyond started in 2015. They only list business that choose to be registered, mainly independent. They have an easy search function and a very convenient editable quote, where guests can switch different elements of the service from the coffin type to the transportation or cemetary. This is all enhanced by a help center to assist with any questions for funeral homes or customers. They also offer funeral financing and pre-paid plans to users directly.  


The United States
Parting was the first funeral price comparison site in the United States and has raised over $120,000 (€107,478) in funding since 2016. Their platform has a pricing breakdown per facility, with an indication on each price noting if a payment is mandatory, optional, or flexible (charged per hour or day). Guests are then directed to call their local business, with no service payments being handled by the site. The platform also offers a pricing SAAS (Software as a Service) solution for funeral homes to add on their own sites.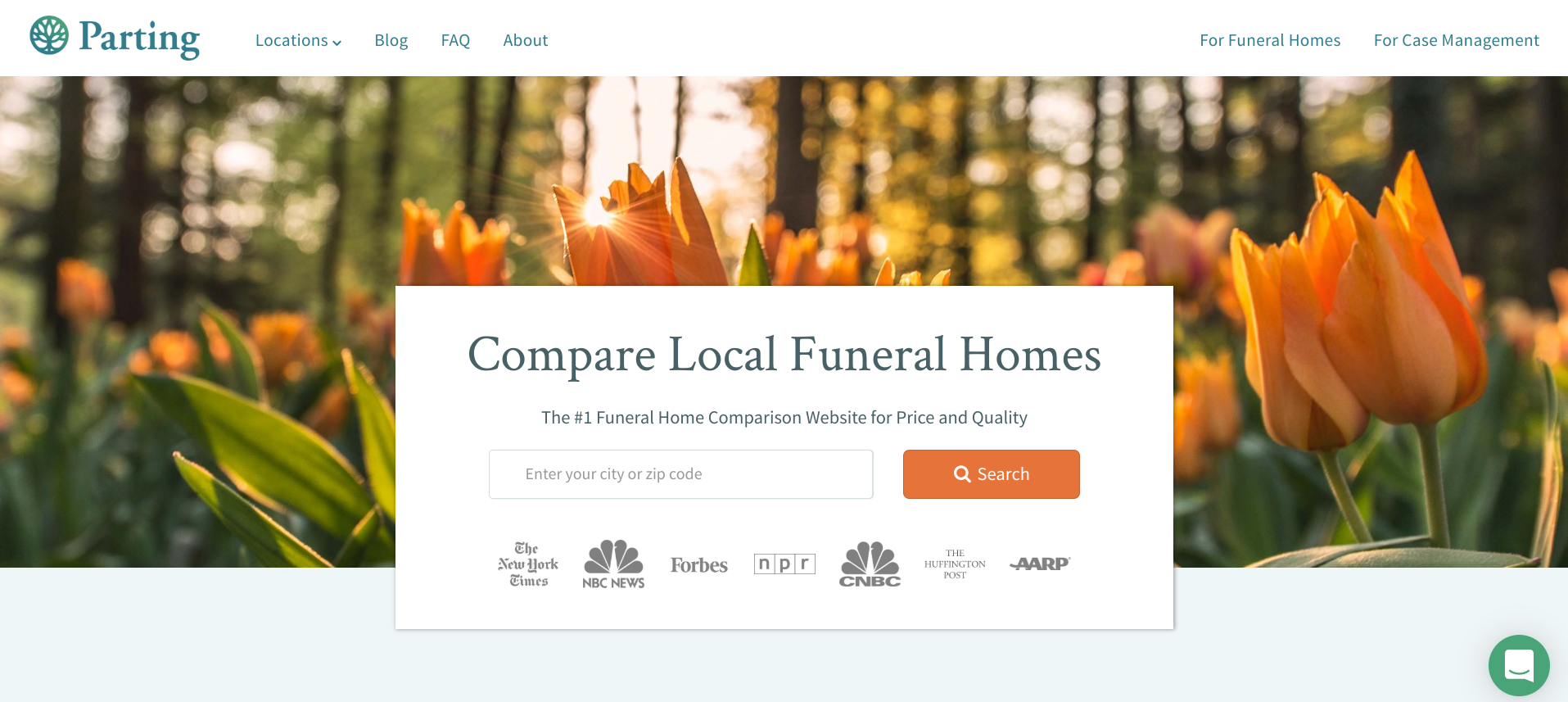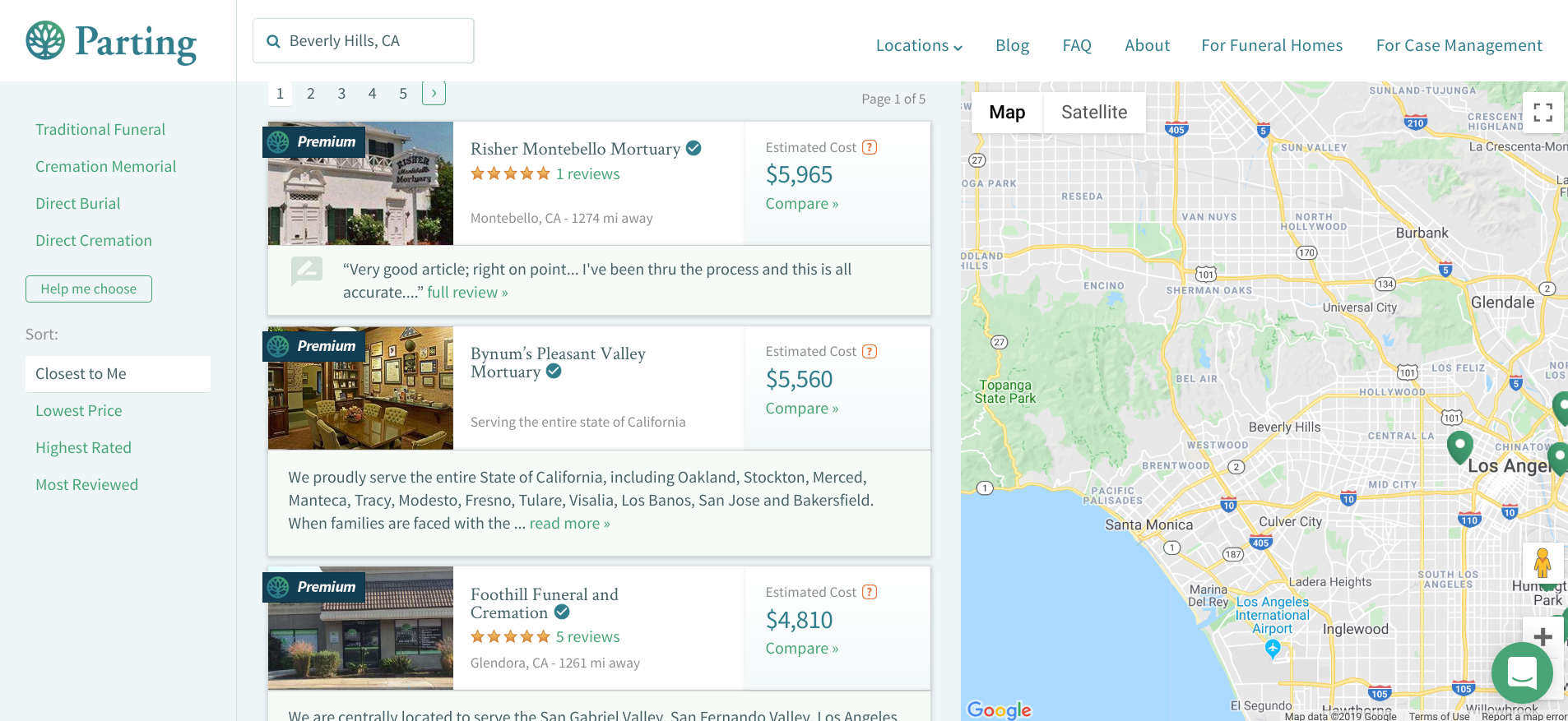 New to the scene, Funerolicity started in 2019. They plan on tackling transparency by having a company verification that funeral homes and crematoriums can apply to be apart of, called the excellence provider program. Businesses are then ¨vetted ̈ and pledge best business practices and to be transparent. They will then receive special placement on the site and be able to offer discounts. On the provider pages pricing is broken into four categories: direct cremation, full service cremation, affordable burial, traditional full service burial, and additions. Users can click dropdowns to see what is included, if they want to get a final pricing they are directed to fill out a separate side section which sends a request to the funeral homes.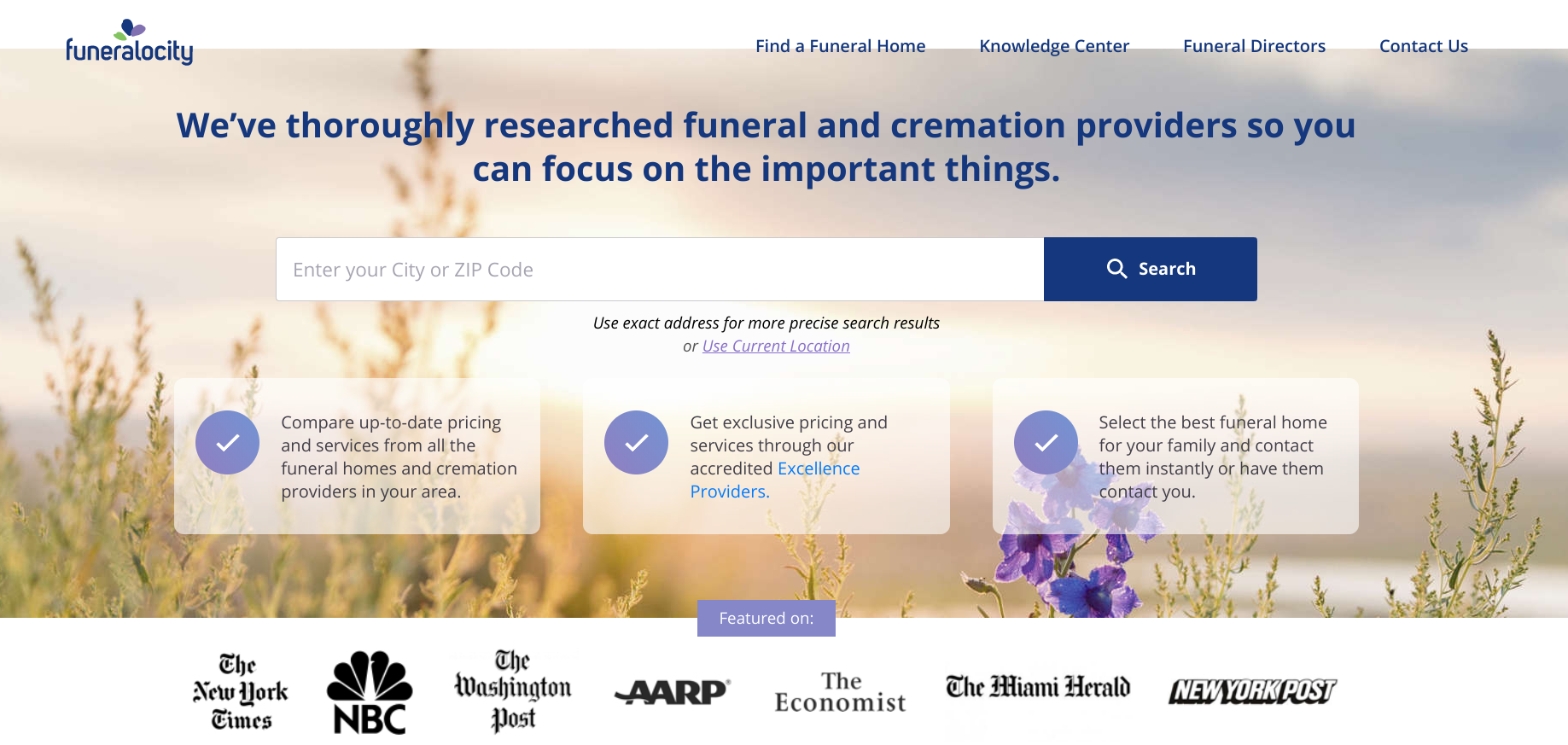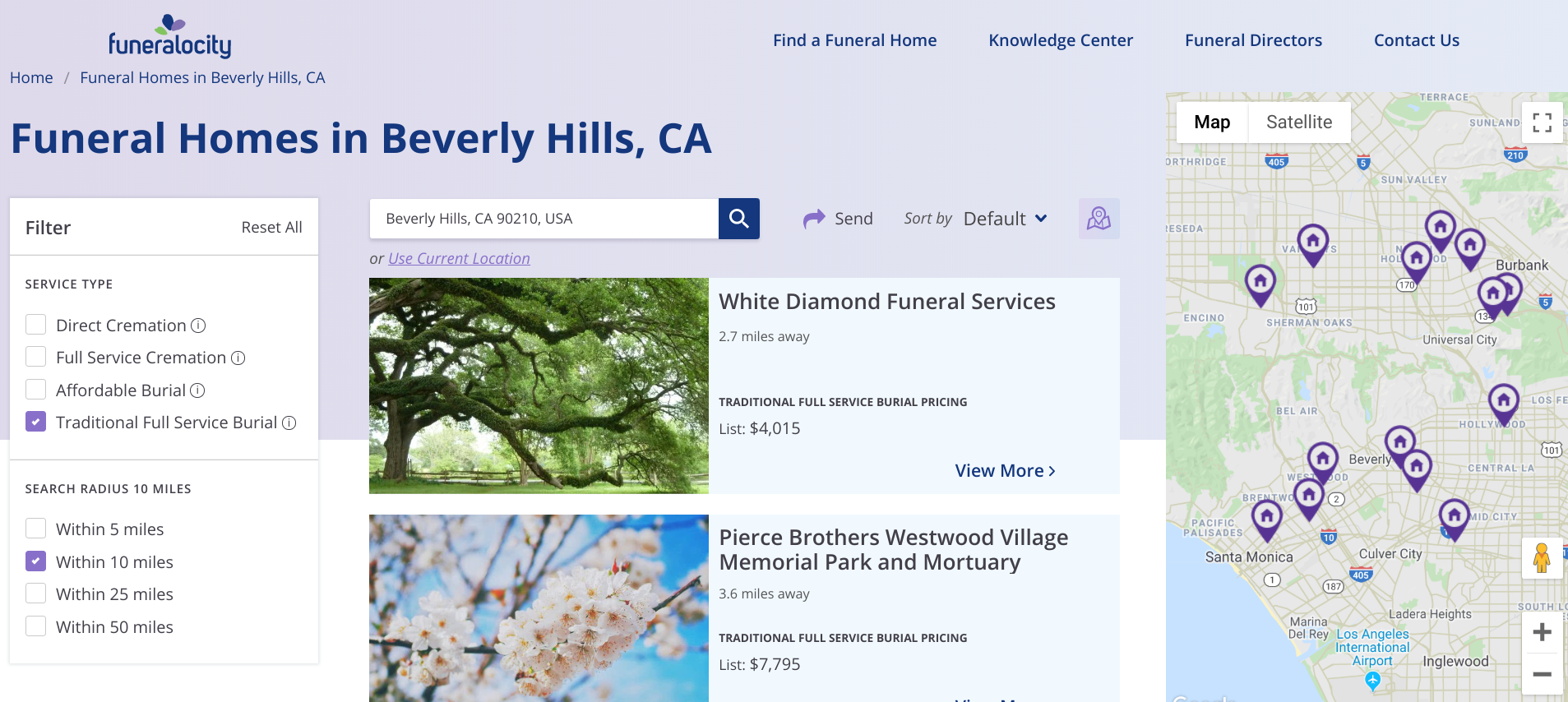 Global
Based out of the Exeter, the United Kingdom, most of its users are based in their HQ country, but it is growing in Australia and the US. Their main selling point is the large amount of reviews they have collected from users. Pricing is only included if it is added directly from the provider.