There is another world when it comes to the lingo of funeral arrangements. Verbiage can vary based on location or even florists. So when advising on selection, the best solution is to make sure there are accurate visuals to confirm families wants and wishes.
Some cemeteries have florists on site, but for those that don´t funeral directors need a reliable relationship with a local florist specialized in understanding the needs of the death care industry (Ie: transportation, redistribution, ext.) and are able to work together to create great customizable wholesale options.
It's important for death care professionals to understand the wishes and the background of the client before suggesting arrangements for a funeral or celebration of life. Flowers can have different meanings in different cultures and the deceased may have created memories around certain coloring or species of flowers.
Staying on top of the trends and offering modern or classic options, showcases the company's relevance as a provider and establishes trust. Letting professionals help families create the event they need and want.
Types of Funeral Floral arrangements:
Casket Spray / Sheaf

For burials casket sprays and sheaves are a common selection. After the ceremony the family can leave the arrangement on the grave or it can be divided up between the closest family for personal home arrangements. The main difference between the casket spray versus the casket sheaf is that the sheafs tend to be large flat lay arrangements, bound and undecorated at the bottom. Designed for a top look, that can easily be rearranged or taken apart, the style is also commonly called a hand tie. Casket sprays prices range generally from $200 to $800, excluding event setup, which potential go up to $1,000 (EURO).
Standing Spray

Similar to the coffin spray the standing spray is the same ornate design as its laying cousin, but placed on an easel. Some company´s also consider any custom shapes on easiles to also be grouped into the spray category, such as the commonly used crosses or hearts.
Wreaths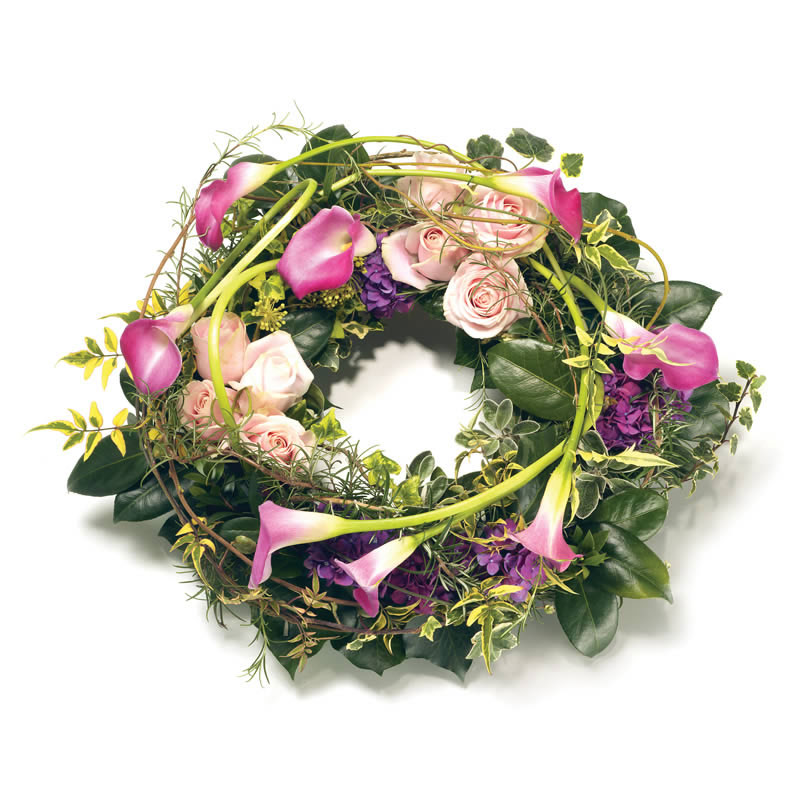 Wreaths are circular arrangements, such as circles or heart shaped. Wreaths are popular at funerals or celebrations of life because the circular shape represents eternity, for it has no beginning and no end.
Standing Wreath

The benefit of standing arrangements is that it gives height to the decor and provides an illusion of more visual cohesion. So many floral purchasers like to have the wreaths elevated.
Coffin Dressings / Coffin Garland

Woven coffins made of elements like wicker, willow, or bamboo are able to be decorated with flowers on the side. Decorations on the side of the coffins can be sporadically placed floral bundles or garlands. Coffin garlands run along the two sides or circle the coffin completely .
Tribute
Custom floral designs in shapes of beloved objects or words are considered tributes. Families use these arrangements to bring the deceased persona to the event. With everything from sport teams to favorite foods being designed with florals. Funeral cushion arrangements also fall under a tribute since it is a custom shape.
Posey / Dome arrangement / Nosegays

It goes by many names, but it is a small circular arrangement that should look good from 360 degrees. The style dates back to the medieval times and it can be small enough to wear big enough to almost be an arrangement. And the flowers used can be simple or as elaborate as a spray. When the verbiage Nosegay is used it usually refers to highly scented flowers being used in mix.
Casket Insert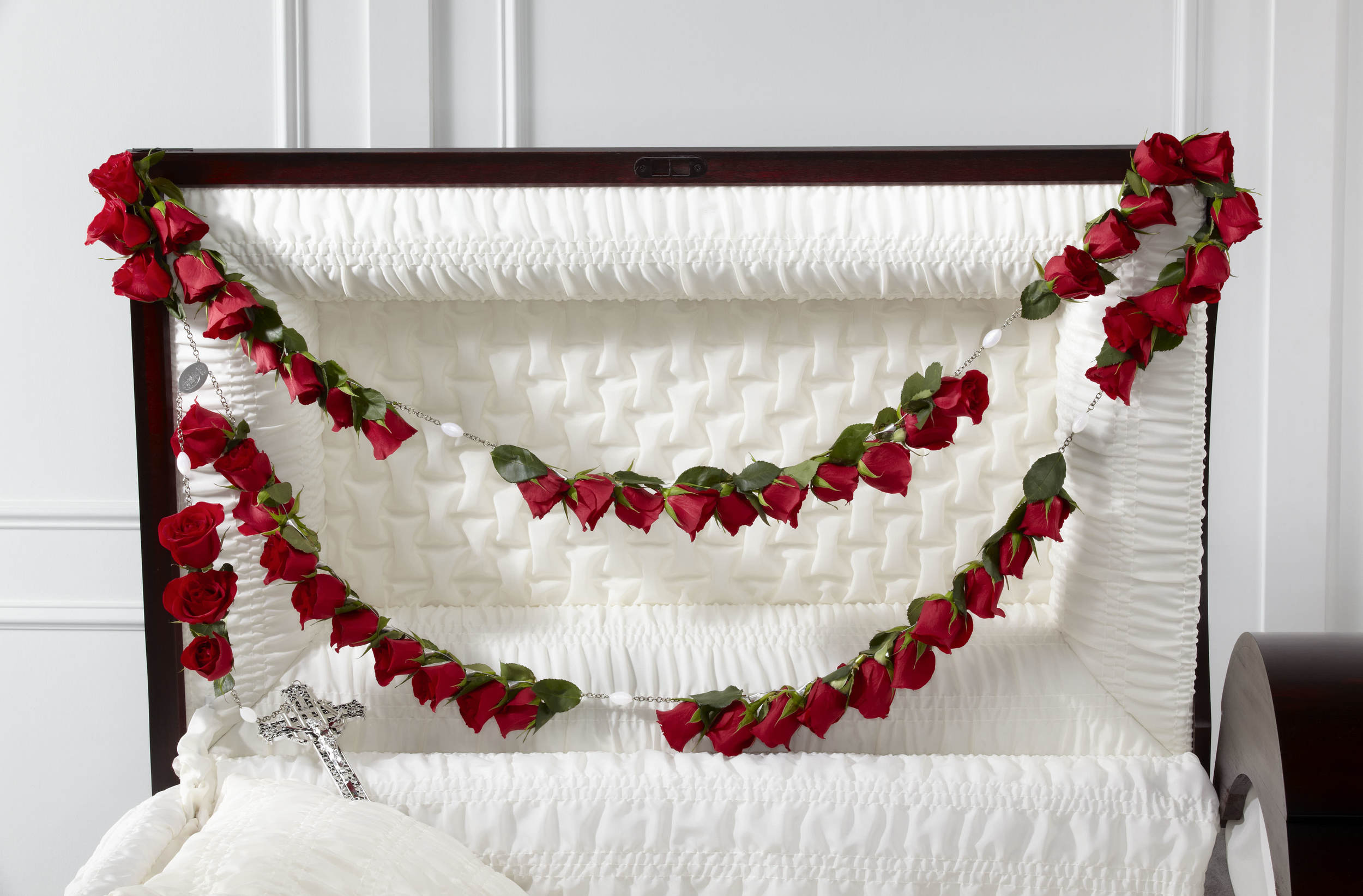 Some families want to adorn the inside of the coffin with an arrangement. There is a lot of diversity in these selections. Varying from a lid corner piece to a full floral rosary or a small pillow (cushion).
Interior Grave Dressing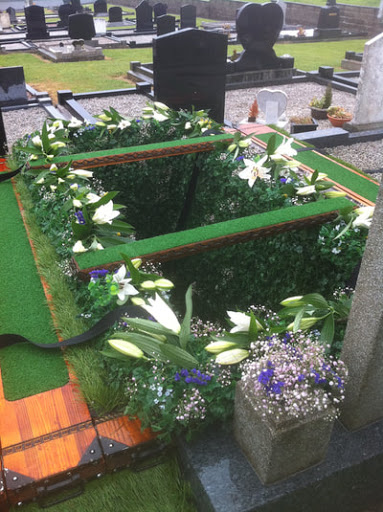 To create more transition between above the ground and the final resting place some families like to have an interior grave dressing. These florals are a mix between temporary and real florals. The walls are blanketed with a faux plant blankets, while the top border is balanced with fresh florals. An interior grave dressing could be an ideal option for families who want to watch the casket enter the ground.
Casket Blanket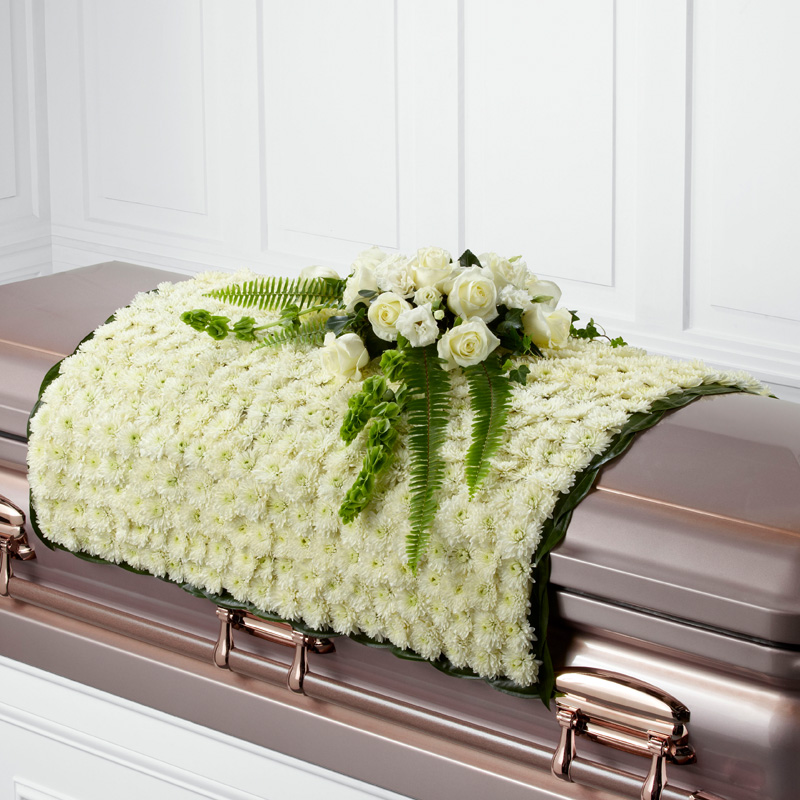 Creating maximum coffin coverage, a casket blanket is exactly as it sounds. Flowers are individually attached to a piece of matting, which is then lined with a fabric to protect the coffin, creating a quilt of florals. There is also the potential to add additional details with a ribbon edging.
Coffin Flower Bed

Popular for viewings, a coffin flower bed is a beautiful way to display a loved one during final goodbyes. This can be assembled in advance or be part of the families preparation if doing a green burial. Florals with long stems and large blooms such as hydrangeas or Gladiolus, are best utilized for this design.
Hearse Deck Dressing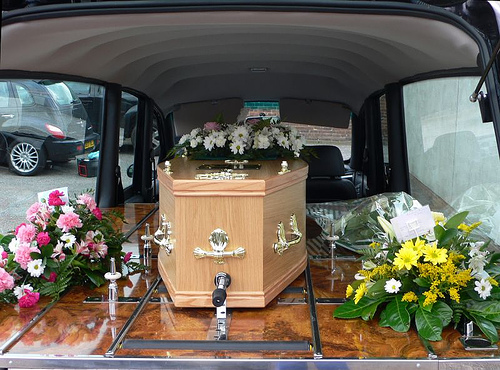 A casket spray commonly remains on the coffin inside the hearse. Supporting arrangements that were used inside can also be placed inside to create a window display. However, some prefer a distinct look and feel in the vehicle so you do occasionally see a company offer garlands or window arrangements.
Arrangement / Bouquet
A standard name for a combination of cut flowers used for decoration. It is the most commonly seen purchase in the floral industry. The two words are generally used interchangeably, however there is a difference. A bouquet is flowers given as a gift without a vase versus an arrangement, which is designed in a container.
Flowers can come in all sizes, colors, shapes, or smells. A consultation with the florist is the best way to create the perfect designs that will enhance the enviroment and remember the recently departed.