The Ministry of Health in New Zealand is actively seeking help from the death care professionals in order to modernize its laws concerning the funeral industry. The government has released a consultation document as an outline on ways to modernize the current funeral protocol. Creating an emphasis on transparency, sustainability, cremation and alternative methods of disposal.
New Zealand's current death care regulations
In 2015, the New Zealand Law Commission published a report containing 127 recommendations to modernize laws around death, burials, cremations and funerals in New Zealand. A majority of the recommendations were accepted, but the government wants additional consultation on the following five topics before any final decisions are made.
The Ministry is seeking additional consultation on:
Death certification and auditing

Regulation of the funeral service sector

Burial and cemetery management

Cremation regulations

Medical referee system
The consultation document published by New Zealand's Ministry of Health includes suggestions like the legalization of alkaline hydrolysis, more transparent pricing, and an emphasis on the respectful treatment of human remains.
These legislation updates are expected to significantly modernize the funeral industry in New Zealand. Opening opportunities for international consultation, import of new funeral equipment and products that align with the new regulations and improve customer service.
The New Zealand death care industry, key stakeholders and the public can submit their suggestions until February 28th 2020.
Submissions can be sent to [email protected] including the form on the Ministry's website.
New Zealand death care industry statistics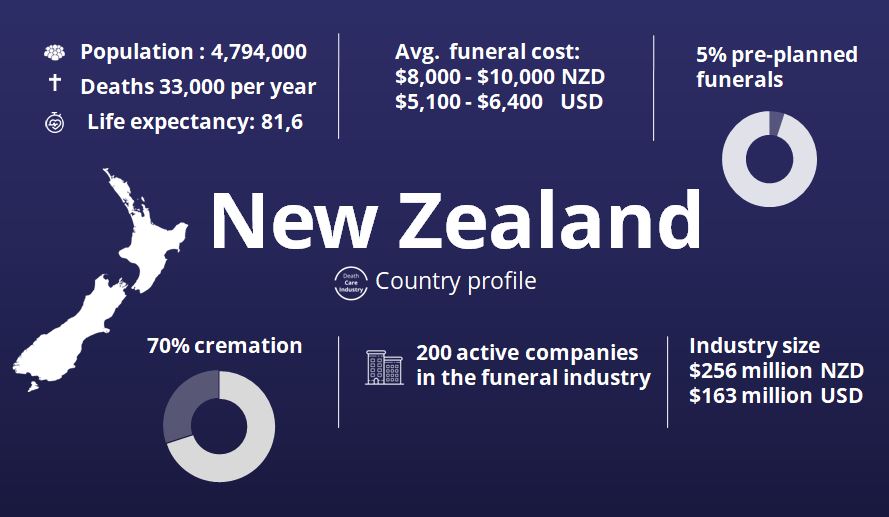 New Zealand has a population of approximately 4,794,000 people and every year around 33,000 human deaths occur in the country. With a life expectancy of 81,6 years the country ranks 17th in the world.
The average funeral cost in New Zealand is $8,000 – $10,000 NZD ($5,100 – $6,400 USD) and about 5% of the population pre-plans their funeral. The country has, compared to other western countries, a relatively high cremation rate of 70%.
In New Zealand there are about 200 companies active in the funeral industry and the total industry size is about $256 million NDZ ($163 million USD).
Roughly 15% of the population is Maori, which are the original inhabitants of the country. About 75% identifies themselves as a New Zealander of European descendant and the remaining 10% has Pacific or Asian roots.